Woman or saxophone player
Category: Double Meanings | Added: February 2, 2013 |

5 comments
Here we have another well known double meaning black and white optical illusion. In the black part of this image you can see a musician playing what looks like a saxophone while facing right. On the white part it is showing the face of a young woman who appears to be looking straight back at you. Which do you think is the most prominent silhouette showing in this picture? The black saxophone player or the white face of a young woman?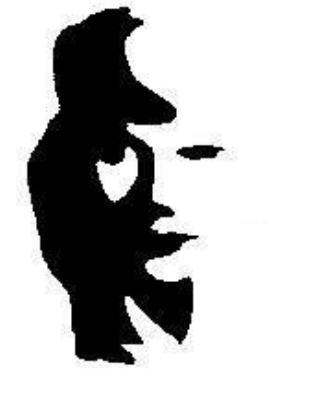 Image Credit: This image is believed to be in the public domain.
Comments ( 5 )
Posted by

bema

on February 19, 2014
i like all of them
Posted by

Tamir

on February 25, 2014
woman
Posted by

nevaeh

on October 7, 2014
the white face young women
Posted by

Cycan

on October 16, 2014
When I first saw it, I saw the saxophone player. No offense but the woman looks....ugly? I guess...
Posted by

Scot Morris

on September 26, 2015
I believe this image was created by Stanford U. psychologist Roger N. Shepard. It appears on page 76 of his 1990 book "Mind Sights" and is discussed in detail on pps. 139-142. His title is "Sara Nader."