Buenos Aires Street Art
Category: 3D Illusions | Added: June 3, 2009 |

7 comments
Street artist Julian Beever sits on a rock as part of his chalk drawing of a hole in the pavement filled with water and ants for a promotional campaign.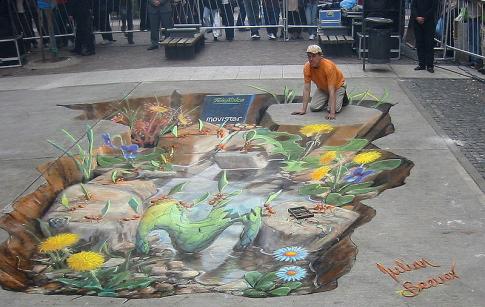 Image Credit: Flickr user Lrargerich

Impossible Crate
Category: Impossible Objects | Added: May 30, 2009 |

12 comments
This ridiculous object was snapped outside a bar by Simon Scott, its another take on the well known "impossible triangle" illusion but which uses a bit of creativity to create a wooden box shape. Is this object a genuine illusion made up of seperate pieces viewed from a certain angle or is there some Photoshop involved ?
Image Credit: Flickr user Simon Scott

Obama Illusion
Category: Afterimages | Added: May 29, 2009 |

75 comments
A modern alternative to the Jesus Illusion, this one uses an image of President Obama. Stare at the dots for a while and then glance at a light colored surface, the afterimage will appear in front of your eyes.

Floating Circle
Category: Size and Distance | Added: May 29, 2009 |

14 comments
The circle in the middle of this picture looks as though its floating above the background. It looks like the blurring on the pattern of the circle creates the illusion that it is closer to your eyes than the background.

Linked Triangles
Category: Impossible Objects | Added: May 29, 2009 |

13 comments
As if one impossible triangle wasn't enough here we have three triangles connected together in an impossible manner. Can you worked out how these are linked ?