Cafe Wall Illusion
Category: Shape and Color | Added: November 7, 2009 |

11 comments
This cafe found in Bristol at the bottom of St Michael's Hill features an elaborate wall design. The black and white pattern uses straight horizontal lines however to the observer the lines appear to the bent.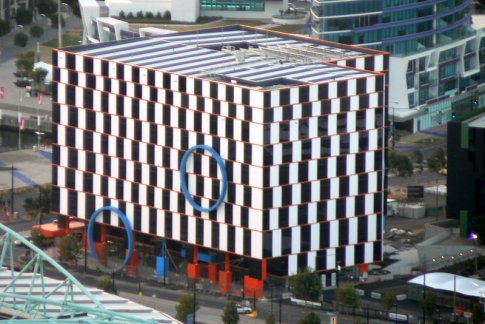 Image Credit: Wikipedia, CC 3.0
Comments ( 11 )
Posted by

lolage

on January 21, 2013
thats not that cool its not as good as the circle one ha ha yolo xxxxx
Posted by

liam

on May 21, 2010
mate thats in melbourne, australia
Posted by

Hawks :)

on October 22, 2010
I love seeing this building on the train on my way to the footy to see the mighty hawks play at the 'G' in MELBOURNE!, Australia! :D
Posted by

draven

on February 3, 2011
awsom
Posted by

jasmi

on April 30, 2011
that's pretty impressive!
Posted by

aswagg

on January 16, 2012
If you move up and down with the scroll it looks so cool(:
Posted by

rowro

on February 14, 2012
pretty sure that the mechanics institute in melb not a cafe. who ever hear of a 9 storey cafe???
Posted by

KalaAzurehowl

on March 17, 2012
if you can double-cross your eyes and look sideways, you can clearly see thay are stright lines LOL
Posted by

may

on March 19, 2012
looked bent. now i see it straight
Posted by

kathryn

on August 31, 2012
IT LOOKS SO WEIRD
Posted by

birch please

on December 27, 2012
duck this short