Hot and Spicy Truck
Category: Photo Manipulations | Added: May 26, 2009 |

7 comments
In the last of his truck illusions series Pat McNulty has produced this image of a truck carrying Hot and Spicy Pringles crisps that appears to have been gutted in a fire.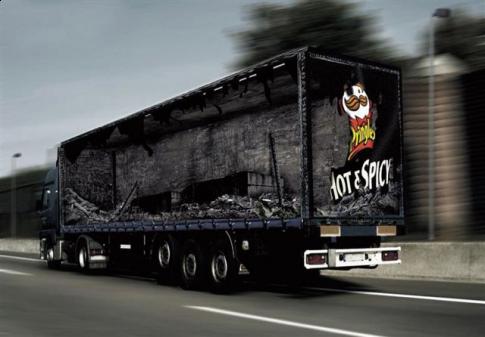 Image Credit: Pat McNulty
Comments ( 7 )
Posted by

ella

on March 7, 2010
congratulations Pat McNulty,you've got the real talent......wooh!
Posted by

Logan

on July 11, 2010
I REALLY dont get
Posted by

guy

on December 21, 2010
i think it's glass.
Posted by

bennyboo2005

on April 22, 2011
picture...
Posted by

john

on May 6, 2011
it trys to make u think that its been burnt but its really a wall for the truck that makes it look burnt
Posted by

may

on March 19, 2012
i think it kind of boring..
Posted by

frinze mikaela aspacio

on October 11, 2012
me!! i just don't get it so much
Add a comment
Your name:
Your comment:
What is the third letter of the word "graphics" ?