Landscape and hidden faces illusion
Category: Illusion Art | Added: February 5, 2013 |

9 comments
The landscape scene in this picture is relaxing to look at. In this image you can see a number of different things including two horses and a rider, also some trees and some rocks. It all looks very peaceful you might think to yourself but if you look carefully there are also eleven human faces hidden in this picture. So take a closer look and see if you can spot any. How many of these faces can you see? Most people usually find about five of them.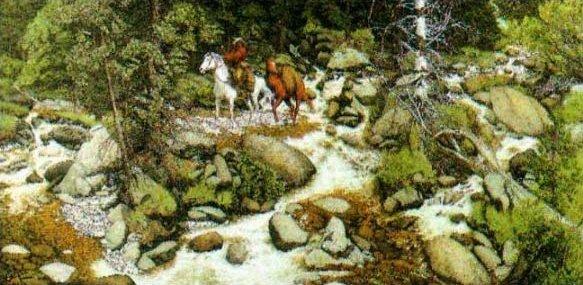 Image Credit: This image is believed to be in the public domain.
Comments ( 9 )
Posted by

Crystal

on May 30, 2013
Is it weird that i found eight of them?
Posted by

Meeks

on July 31, 2013
I found 8
Posted by

Ryan Berg

on August 8, 2013
11
Posted by

Ryan Berg

on August 8, 2013
Hmm. 14, if you include the riders.
Posted by

lili

on August 21, 2013
i found 9
Posted by

Anna

on August 26, 2013
I found 10
Posted by

danny mcclure

on August 1, 2014
i Found 11
Posted by

Sharp509

on October 16, 2014
Found 7. I give up anyway.
Posted by

archie

on March 20, 2015
I found 8 faces! And I am 10
Add a comment
Your name:
Your comment:
What is the third letter of the word "graphics" ?