Confusing reading illusion
Category: Shape and Color | Added: February 18, 2013 |

24 comments
In this optical illusion there is a wall of black text on a white background. When you first look at what it says it appears to be nothing but nonsensical gibberish, however this is not the case. Look at the image again and start reading the text and you will see what I mean. Can you read what the message says?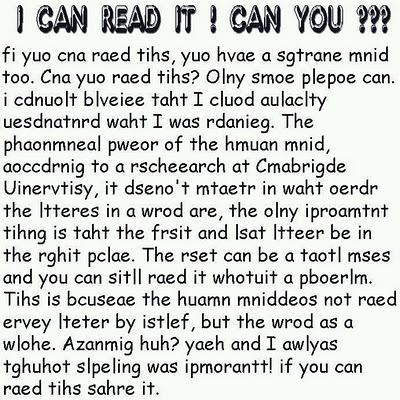 Image Credit: This image is believed to be in the public domain.
Comments ( 24 )
Posted by

Wassim

on March 10, 2013
that is so cool
Posted by

bob

on May 22, 2013
i love stuff like this!!! it is totally awesome!!!
Posted by

by by by on on on

on June 3, 2013
I guess I have to share it then!
Posted by

luis

on June 3, 2013
Cool
Posted by

nicole

on June 7, 2013
cool!
Posted by

Legolas lover

on June 8, 2013
i have seen these things all over the internet but they are so cool
Posted by

whydoyoucare?

on July 1, 2013
I did this on my first try its awesome
Posted by

oh yeah

on August 23, 2013
ya theres this app called quotes wp there r a few like this. and there r also hilarious wallpapers!
Posted by

Tahir

on August 25, 2013
i really like it. Its amazing that i can read all this. Its marvellous work.
Posted by

jijo

on February 26, 2014
been thrre seen that:-[
Posted by

hottie

on July 3, 2014
Amazing couldnt be more terrific
Posted by

Fiona21

on October 2, 2014
I thought it was hard to read but after a while it felt like reading a normal paragraph!!
Posted by

5SOS Lover

on October 2, 2014
That was epic!!
Posted by

awsome person

on October 10, 2014
i can read it
Posted by

awesome

on January 11, 2015
i can read this and i did
Posted by

selena gomez

on January 20, 2015
What the what
Posted by

jennifer

on April 7, 2015
I have dyslexia so it was easy for me
Posted by

superman

on April 16, 2015
It says "if you can read this, you have a strange mind too. Can you read this? Only some people can. i couldnt believe i could actually understand what i was reading. The phenomonal power of the human mind, according to a research at Cambridge University, it doesn't matter the letters in a word are, the only important thing is that the first and last letters be in the right place. The rest can be a total mess and you can still read it without a problem. This is because the human mind does not read every letter by itself, but the word as a whole. Amazing huh? yeah and i always thought spelling was important! if you can read this share it.".
Posted by

Judah

on September 18, 2015
Aswoeme
Posted by

Rex bromo

on November 12, 2015
I lkie it tihs is so aswmoe
Posted by

idon'ttrustyou just sayin

on November 24, 2015
i can read it i have a strange mind
Posted by

Catwoman

on July 21, 2016
It's not gramatically correct though
Posted by

milannie b. ontar

on July 14, 2016
ncie huh!
Posted by

jess

on September 17, 2017
im 10 and i find it so easy