Soldier or man bending over illusion
Category: Double Meanings | Added: February 15, 2013 |

10 comments
This is one of those optical illusions where you will probably find you have to do a double take before you notice any difference in what you are first looking at. So to start with, what do you see? On first glance this image appears to be the face of a roman soldier wearing a helmet and facing left, but if you look again you can also see it is an image of a man bending over while facing the wall and showing his behind.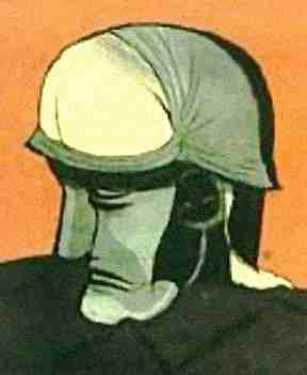 Image Credit: This image is believed to be in the public domain.
Comments ( 10 )
Posted by

Walrus

on February 18, 2013
that looks like an illlllllllllusoosin, i am 3 years old
Posted by

bla

on February 18, 2013
supercalafragilisticespialadocious
Posted by

Max keeble

on May 8, 2013
I like 3.14 or pie
Posted by

Gwen

on July 23, 2013
EEEEWWW, BUTT!!!!!!!!!!!
Posted by

blahhhhhhh

on October 20, 2013
I couldnt see the soldier... all i saw was aan who needs to pull up his pants lol XD
Posted by

David

on November 10, 2013
Lol me toooo!
Posted by

jay

on November 22, 2013
it appears to be like someone to be bending ,over to pick up something ,a picture a person being carry on someone's shoulder
Posted by

Gavin

on January 26, 2014
I saw both.
Posted by

Gavin

on January 26, 2014
someone needs to pull up his pants
Posted by

jennifer

on April 7, 2015
that's so cool