DHL China Pavement Art
Category: 3D Illusions | Added: September 14, 2009 |

9 comments
Julian Beever returns with another impressive 3d perspective chalk drawing, this one is a promotion for DHL and shows a hole to China through which a delivery is being passed. It would be handy if it were that easy to deliver a parcel to the other side of the world however the Earth being only one-foot deep would be something of a concern.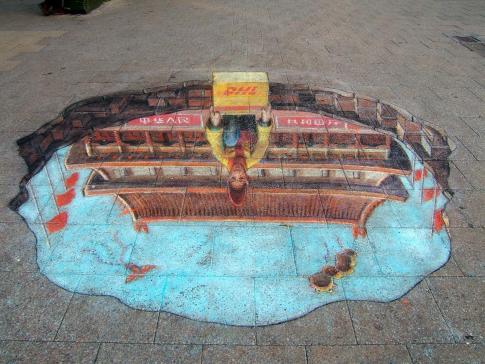 Image Credit: Flickr user Lee Jordan
Comments ( 9 )
Posted by

leona

on June 15, 2010
ive fallin in and i cant get out
Posted by

race

on July 25, 2010
i loove your woork dudee
Posted by

bug

on September 21, 2010
weird a
Posted by

bennyboo2005

on April 22, 2011
i know thats another one of those 3d chalk drawings good job though!
Posted by

strood academy

on October 14, 2011
whhoaa it works
Posted by

alina

on November 4, 2011
wowwwwwwwwwwwwwww superb
Posted by

alina

on November 4, 2011
wowwwwwwwwwwwwwww superb
Posted by

Chingching

on March 31, 2012
Yeeeeeeeaaaaahhhhhhhhhhh
Posted by

Tingting

on March 31, 2012
Peeeeeeeeuuuuuuuuuu