DHL China Pavement Art Flipped
Category: 3D Illusions | Added: September 14, 2009 |

7 comments
This is another view of the promotional DHL pavement chalk drawing from Julian Beever - this time shown upside-down. The delivery appears to be getting dropped down from the ceiling and looks even more impressive seen this way up.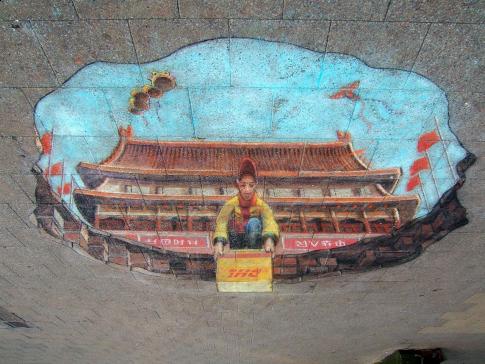 Image Credit: Flickr user Lee Jordan
Comments ( 7 )
Posted by

Danielle

on February 4, 2010
It looks like the picture was taken up side down. And then fliped on the screen...
Posted by

Who cares!

on February 24, 2010
ohh. that is just so cool:)
Posted by

bridges neilsen72

on June 12, 2010
i've fallen and i can't get up!
Posted by

Krazy Native

on August 17, 2011
whoa looks kool
Posted by

may

on March 31, 2012
cool
Posted by

jazzymine

on January 7, 2014
he just drew it on the floor you can see the bricks
Posted by

GOOD

on December 9, 2016
OH I SEE TURN YOUR DIVISE OR FLIP AND U'LL SEE IT IS THE PAVEMENT!!!!!!!!!!!!!!!!!!!!!!