Earthquake Illusion Back
Category: 3D Illusions | Added: May 29, 2009 |

8 comments
This impressive illusion was created as part of a campaign by the American Red Cross to raise awareness with regard to earthquakes. The vehicle is painted to show an earthquake ravaged version of the buildings behind it which in this case is at Justin Herman Plaza in San Francisco, looking down the opposite side from the previous picture.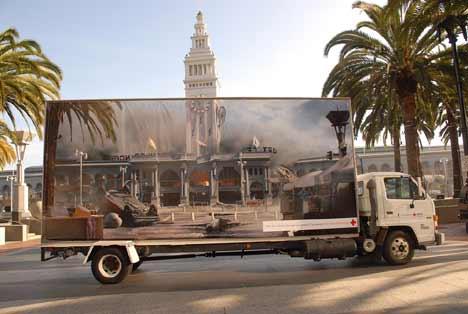 Image Credit: American Red Cross
Comments ( 8 )
Posted by

tedo

on November 12, 2009
weird i dont get it
Posted by

Maggie

on December 16, 2009
It can give people food for thought... It's so cool.
Posted by

kj

on December 20, 2009
it is cool but tree in truck spoils everything
Posted by

Melvin

on January 14, 2010
tree does spoil it
Posted by

Crazy 101

on May 4, 2010
Weird but cool
Posted by

sunny

on March 7, 2011
the tree is a spoiler!!!! no fair!!!! lol nice job though, American Red Cross!!!!! :) :D :L :P
Posted by

parolizemeh

on June 4, 2011
tree is a spoiler i was wtf is a truck
Posted by

abinaya

on June 4, 2013
The picture don't match 100% to the background The tree's leaves were not seen in the truck
Add a comment
Your name:
Your comment:
What is the third letter of the word "graphics" ?