Figure columns illusion
Category: Double Meanings | Added: January 22, 2013 |

4 comments
This is a black and white photograph taken by a lady called Sha Sha Chu. The image is of a row of white columns but it also gives the illusion that you are looking at a row of human figures in black. Which image stands out the most to you? The columns or the human figures?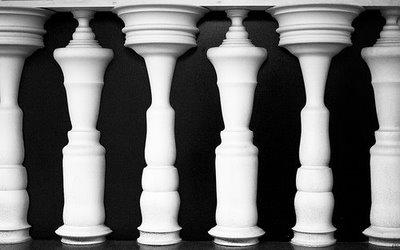 Image Credit: CC 2.0 Sha Sha Chu
Comments ( 4 )
Posted by

moravian

on May 2, 2013
there our 5 guys in black
Posted by

idon'ttrustyou just sayin

on November 24, 2015
5 black guys
Posted by

Lily

on June 3, 2016
The men in black.
Posted by

Andromeda

on April 9, 2017
I see both But the one stand the most are the white columns
Add a comment
Your name:
Your comment:
What is the third letter of the word "graphics" ?