Floating tap illusion
Category: Impossible Objects | Added: April 7, 2011 |

21 comments
Here is an unusual spectacle that can be found at a water park called Aqualand in Puerto de Santa Maria, Spain. Visitors to the park are treated to a view of this faucet that appears to be floating in mid air above a pool in to which the water is flowing. The secret to this illusion lies in a pipe that is expertly concealed within the flow of water and which both holds the faucet in the air and supplies the water pouring from it.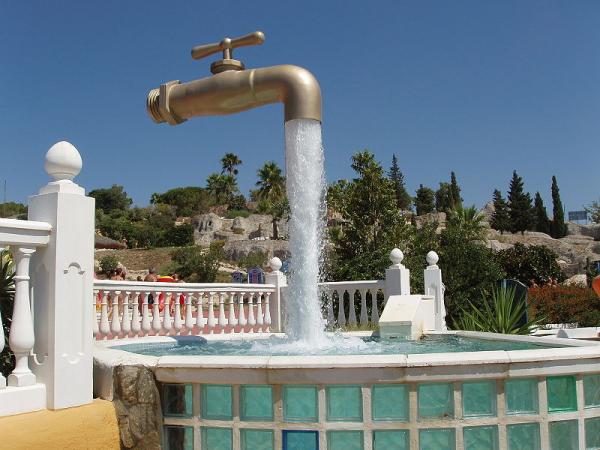 Image Credit: CC-BY-SA 3.0 emijrp
Comments ( 21 )
Posted by

Nupur Munda

on April 7, 2011
awesome
Posted by

bennyboo2005

on April 22, 2011
the water is going around a pipe
Posted by

bunnypants101

on May 29, 2011
i cant tell
Posted by

CrazyZombieLover

on September 9, 2011
thats so cool - have you seen the lego one?
Posted by

pepper

on August 28, 2011
i wonder were it is?
Posted by

carazy pretty gal

on October 9, 2011
soooooooooo coool
Posted by

koooooooooooooooooooooooooolllllllllllllll

on November 15, 2011
one came to my school it was awsome.
Posted by

migg

on January 22, 2012
WOW Thats awesome :)
Posted by

Mollu

on December 21, 2011
cool
Posted by

may

on March 18, 2012
what a magic!!!
Posted by

Gabby

on May 12, 2012
That is awesome... XD
Posted by

Hailey Reaves

on May 28, 2012
Wow this is soooo cool. I wonder where it is?.....
Posted by

aj

on July 29, 2012
its not that hard to know how they did that
Posted by

vai

on August 26, 2012
wooow! looks great!
Posted by

Therese

on September 18, 2012
thats soooooooooooooo cool
Posted by

allenor

on September 18, 2012
awesome..........
Posted by

lency

on June 5, 2013
i wish i would see i
Posted by

Anonymous

on February 22, 2014
Rocket tap! It's a rocket tap that floats with water!
Posted by

D.Sundarraj Allwin

on March 31, 2014
Exellent images and wonderful.
Posted by

hjsbsfhjb

on July 3, 2015
i this illusion at the caldwell street fair
Posted by

Andromeda

on March 25, 2017
Very creative and original, the support have to be a transparent pipe or something with mirror to reflect the water when is falling. I want something like that in my garden he he.