Public lavatory false wall
Category: 3D Illusions | Added: January 15, 2010 |

13 comments
Bringing a whole new meaning to the term 'public lavatory' this piece of artwork featured on a far wall brings added depth to the room and showing what it might be like if other people were in there using the facilities. On a slightly different note - why is there a guy rolling a ball down the grooves in the floor ? Update: Turns out its not a ball but a sponge.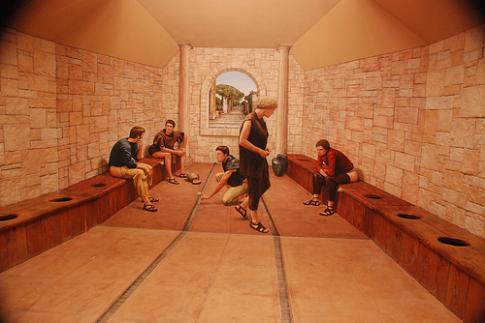 Image Credit: Flickr user celebdu
Comments ( 13 )
Posted by

A Person

on February 6, 2010
Isn't he cleaning his sponge in the water and not rolling a ball?
Posted by

Starnger

on February 12, 2010
looks like a bubble
Posted by

mer

on February 13, 2010
how is this an illusion?
Posted by

Sarah

on March 13, 2010
It is an illusion do to it looking like a real room when it is actually just a drawing on a wall...There are different types of illusions.
Posted by

someone

on August 29, 2010
where is the illusion here? is it an illusion ? or just a joke?
Posted by

Lilly

on September 14, 2010
At first I though the whole image was just a painting and didn't get how this was an illusion but once I read the deion and looked at it harder and noticed where the floor grooves look like they slant is actually where the wall/painting is.
Posted by

lacamento BSU

on December 6, 2010
oh
Posted by

nikki

on December 27, 2010
i realy dont get it.
Posted by

Molly

on December 29, 2010
OH I SEE NOW!! it's a painting on the wall!!
Posted by

la

on December 17, 2010
this illusion is painted in a public lavatory in Puzzling World, Wanaka New Zealand. Google it-the websites photo of the room is at a much better angle! P.S its a great place
Posted by

KF

on November 13, 2011
I have had numerous dreams about being in a very public restroom like this. Glad someone else has had the same dreams.
Posted by

Deesha

on December 3, 2011
OMG I've been there!!!!! I have seen that painting, it's found in a place in New Zealand. :)
Posted by

may

on March 19, 2012
i dont think this is an illusion??