Man or a Mermaid
Category: Double Meanings | Added: September 30, 2009 |

15 comments
A classic double meaning illusion, is this a drawing of a man with a moustache or is it a mermaid at the bottom of the ocean ?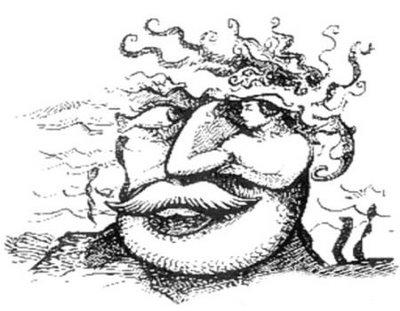 Image Credit: This image is believed to be in the public domain.
Comments ( 15 )
Posted by

GHOST!

on November 23, 2009
looks like santa clause
Posted by

abra

on November 25, 2009
its so obvious!!
Posted by

Shannon curry

on January 25, 2010
i can see it @ first, then the whole "man with a moustache" thing gets me off track. I see it now!
Posted by

mer

on February 13, 2010
It so hard to freakin see cuz u just look an see the WHOLE MAN U CANT EVEN FOCUS ON THE MERMEAID...
Posted by

maya

on April 22, 2010
man with a long moustache and i can also see the mermeaid
Posted by on April 2, 2011
can see the face, bt a canny see thee mermaid??
Posted by

bennyboo2005

on April 22, 2011
mans nose is mermaids elbow mans right eye is mermaids head and mans moustache is mermaids tail
Posted by

ok

on May 24, 2011
i see my grandfather
Posted by

MC

on October 26, 2011
Its both
Posted by

lekk shuuuu

on November 12, 2011
both
Posted by

may

on March 18, 2012
there's a mermaid and a man.its cool
Posted by

krysta

on March 31, 2012
wow that was sooo cool. i was looking for a mermaid cos thats what i searched for but wow soooooo cool
Posted by

sashies

on September 5, 2012
i see both the man and the mermaid. but the man is more obvious to me
Posted by

Poopy

on June 11, 2016
Wow I only saw the man at first
Posted by

Mafalda

on March 25, 2017
That's when I call to be creative, the I tension is using the mermaid the fish and the octapus to create an old man's face. Cooool !