Pyramid Pillar Illusion
Category: Double Meanings | Added: September 26, 2009 |

24 comments
This photograph taken in Bad Langensalza, Germany shows one of many pillars placed around a fountain. The illusion here is that the pillar can either appear to be hollow or to have a pyramid on the top depending on which way you look at it. The shadow on the right gives it away slightly but its still quite convincing.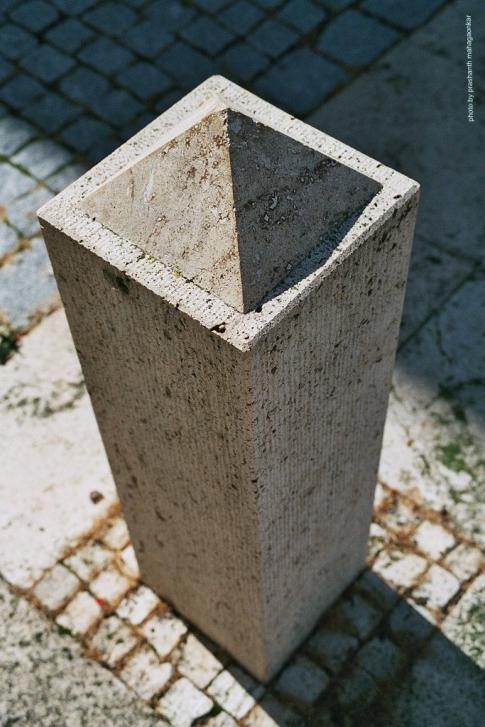 Image Credit: Flickr user alpha_prashanth
Comments ( 24 )
Posted by

GHOST!

on November 23, 2009
okay?
Posted by

Melvin

on January 14, 2010
its sticking out coz i see bit at top
Posted by

Melissa

on January 29, 2010
Its hollow...like the person said the shadow on the top right gives it away..
Posted by

Ryan

on February 21, 2010
Its sticking out! The shadow would make it stick out. You can also see part of it on top of the pillar
Posted by

mer

on February 13, 2010
hollow. but cool illusion
Posted by

bennyboo2005

on April 22, 2011
ive seen some like this
Posted by

Mermaid

on July 14, 2010
I think it's sticking out because in the top left corner toward the middle there is an extra line plus the shadow on the bottom left is sticking out farther than the square lines
Posted by

wow

on August 17, 2010
Haha are you kidding people it is a pyramid on top if you knew anything about light source you would take notice of the placement of the shadow. if it were hollow how would the be a shadow on the outside right but not on the inside left side.Plus you can see the shadows from the point on the outer lip. Not Hollow.
Posted by

poetgirl

on August 19, 2010
a piramid.That's cool,though.
Posted by

kolioo

on September 4, 2010
THTASSS SOOO KOOOOOLLLL
Posted by

jessica

on December 7, 2010
wow this pic keeps changing right before me eyes
Posted by

dessie

on March 2, 2011
It's a pyramid on top. no doubt about it. light play
Posted by

sophie

on June 29, 2011
It's not hollow but it looks like both.
Posted by

KayKay

on July 5, 2011
Its definately a pyrimid. Well at least I think it is:)
Posted by

ash

on October 23, 2011
As the thing said, the small shadow on the bottom gives away the fact that It's a pyramid, but when you look at the top, it appears to be hollow. Very neat!
Posted by

SAVANNA

on November 27, 2011
THE OPTICAL ILLUSION IS TO MAKE IT LOOK LIKE BOTH SO I DON'T REALLY KNOW!!!!!!!!!!!!!!
Posted by

Niki18

on March 7, 2012
I love this one it is one of my favorite also!
Posted by

KalaAzurehowl

on March 17, 2012
i think there is a pyramid at the top cus' if you look at the top corner you can see the other half of it LOL thats just MY opinion =)
Posted by

KalaAzurehowl

on March 17, 2012
OH and plus the small shadow of it at side
Posted by

may

on March 18, 2012
cool pic.the shadow helped a lot in this picture.
Posted by

Sarah

on March 31, 2012
at first it really looks like a hallow but when i saw the shadow on the side that overlaps, then, i knew it has a pyramid on top...
Posted by

sashie

on September 5, 2012
it's definately a pyramid on top. it does not look like a hallow to me at all
Posted by

Rina

on May 1, 2013
Wow! I know there is a pyramid from the shadow but first I saw the pyramid then hollow.
Posted by

Andromeda

on March 25, 2017
Cool I see both !!!! But is hollow, the shade gives the impression to have a pyramid on the top.a