Nail Biter Bag Illusion
Category: 3D Illusions | Added: September 20, 2009 |

11 comments
Here's a novel way to promote a product, this carrier bag for something called "Stop 'n Grow" presumably designed to stop compulsive nail-biting has its handles positioned so that it looks as though the hand of the person carrying it is inside the mouth of the woman on the side of the bag. Its an original idea and a nice way to get attention to what you are advertising.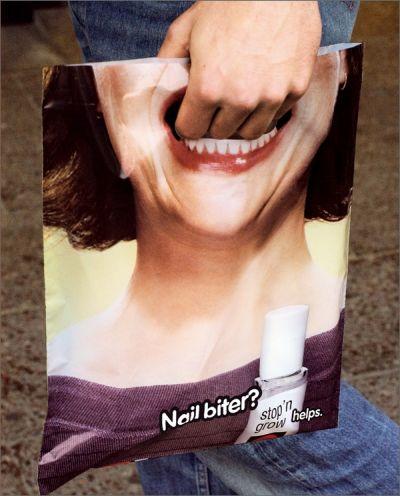 Image Credit: Flickr user billypalooza
Comments ( 11 )
Posted by

Biddy

on October 10, 2009
Awesome as picture that would teach people not to bite their nails!!!! Biddy
Posted by

iyftyyt

on March 12, 2010
do not bite him
Posted by

flyer than you

on May 14, 2010
crazy picture you got their you know.
Posted by

bennyboo2005

on April 22, 2011
that would hurt
Posted by

sophie

on June 30, 2011
just plain weird!
Posted by

charlotte

on January 22, 2012
KWL Where do i buy that bag!!
Posted by

KalaAzurehowl

on March 17, 2012
the perfect birthday bag LOL
Posted by

may

on March 18, 2012
that is very creative kind to advertise
Posted by

sashie

on September 5, 2012
that is very awesome. I need to get that bag. like seriously
Posted by

january

on January 7, 2014
yay !!! teach the nail biters that are trying to stop to bite them more thanks for the (un)helpful advice
Posted by

good

on June 24, 2017
You can tell it is a bag.