Square and Cross Room
Category: 3D Illusions | Added: August 29, 2009 |

17 comments
This remarkable perspective illusion was created by artist Felice Varini, the lines drawn on the wall produce the effect of a two-dimensional square and cross that appear to exist in three-dimensional space but only when viewed from one specific angle.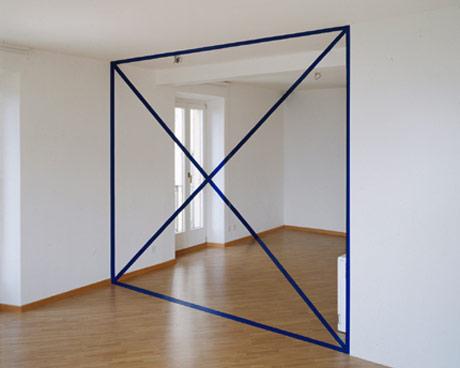 Image Credit: Felice Varini
Comments ( 17 )
Posted by

johnk

on September 14, 2009
how'd they get it so precise ?
Posted by

naruto

on October 2, 2009
niiiiiiiiiiiiiiiiiiiiiiiiiiiiiiiiiiiiiiiiiiiiiiiiiiiiiiiiiiiiice!!!!!
Posted by

raegan

on March 18, 2010
in a way it looks like someone drew it. in another way it looks like a drawing on glass.
Posted by

bob 111

on January 4, 2011
I do not get it what is ment to haeppen?
Posted by

Jack

on January 8, 2011
I'm not sure is this a glass or just a puted metal square with two crossed lines.
Posted by

AstroiD

on January 20, 2011
this are lines....across the door...the walls...the floor... and only at this angle there is this cross...
Posted by

georgie

on April 28, 2011
is it a mirror?
Posted by

you shall never know

on May 1, 2011
All it is is blue tape on a mirror. FAIL
Posted by

noname

on June 12, 2011
coool!!!that is very hard to do but worth it!!
Posted by

Aaron kiltie

on October 1, 2011
i really dont get it
Posted by

who_cares

on October 10, 2011
Take a projector and project the image that you want to see in 3d from that exact angle and location. then you paint or tape in the projected images in their actual location on the floor, walls, doors, and ceilings. Then when viewing from the exact location and height of the projector, then the image will appear to be a 3d image.
Posted by

Dd

on November 9, 2011
Its just taped on a mirror
Posted by

mrwhite

on April 9, 2012
same as 3D artist "ODEITH" amazing art internal angles
Posted by

cato

on May 30, 2012
i dont understand
Posted by

GWEN

on July 23, 2013
I AGREE WITH Dd on this one
Posted by

Andromeda

on March 24, 2017
Looks like a tape over a mirror but also could be dark blue ribbons across de walls to create that effect .
Posted by

DragonFire_Blue

on February 1, 2018
There is a YouTube video of different angles of the tape being shown on the walls, but I forgot the source.