Striped Circles Illusion
Category: Shape and Color | Added: August 26, 2009 |

12 comments
These two shapes made up of striped lines look wavey and disorganised, however on closer inspection they actually make up two perfect circles, one inside the other.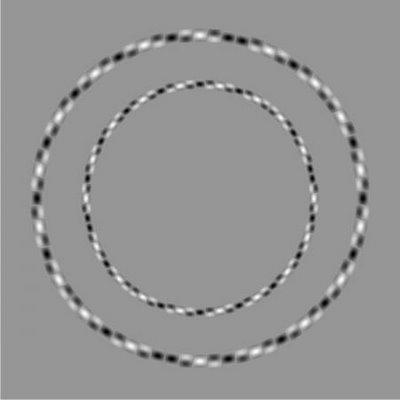 Image Credit: This image is believed to be in the public domain.
Comments ( 12 )
Posted by

dhruvi

on October 9, 2009
When i look at the whole picture it appears moving and wiggling.
Posted by

thy5r6u45

on March 12, 2010
what i cant se it my i site is not good
Posted by

raegan

on March 18, 2010
it looks like its moving and the cirlces look not so straight
Posted by

alysa

on April 13, 2010
my eyes.....
Posted by

rachel

on June 16, 2010
lol
Posted by

iman

on June 3, 2011
omg cool
Posted by

sophie

on June 30, 2011
After awhile you can see that the circles are perfect
Posted by

carren

on August 12, 2011
i love testing my friends with thes illusions its fun to see if they see what i see:):):):)
Posted by

the postman

on January 25, 2012
same and its funny to see there gormless faces
Posted by

sashie

on September 5, 2012
this one was easy
Posted by

Queen

on January 18, 2015
Great work of art! amazing!
Posted by

JARK

on January 14, 2016
If you focus you can easily tell they r perfect circles