Fraser Spiral Illusion
Category: Shape and Color | Added: August 29, 2009 |

8 comments
Developed by psychologist James Fraser in 1908, the Fraser Illusion appears to be a spiral pattern converging in the distant center with a black, white and grey chequered background. In reality the spirals are not really spirals at all but a series of concentric circles, the background gives the illusion that the circles are spiralled.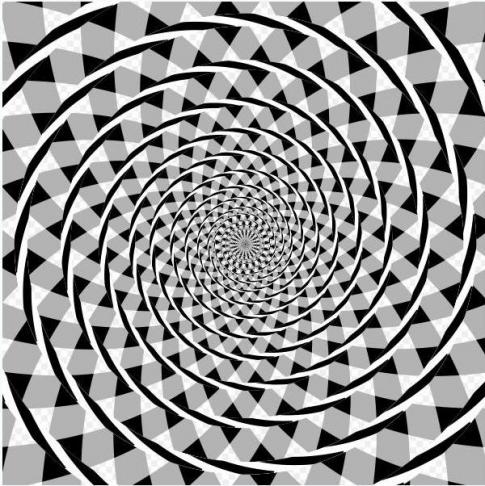 Image Credit: This image is believed to be in the public domain.
Comments ( 8 )
Posted by

cristal

on May 17, 2010
wow cool
Posted by

KO801

on January 16, 2011
Thats nice. Can you also call it a fraser circle?
Posted by

Allyson

on February 22, 2011
it does kind of create that illusion.The way i figured out that it was just a series of circles was that i put my finger on one of the lines, then i took my other finger and ran it around the line and then came back to my finger and then i was able to do that the entire way to the dot.
Posted by

jake

on January 5, 2012
omg that cool
Posted by

porsha

on April 21, 2012
sooooooooo friggin cool
Posted by

Alice Rose

on November 23, 2014
i dont get this one
Posted by

Queen

on January 18, 2015
Genius... c",)
Posted by

hjsbsfhjb

on July 2, 2015
hmmmmm... I like it!
Add a comment
Your name:
Your comment:
What is the third letter of the word "graphics" ?