The Passion Today
Category: Illusion Art | Added: May 26, 2009 |

30 comments
This remarkable piece by artist Octavio Ocampo illustrates Jesus carrying the cross with Roman soldiers and other figures in the background. The most incredible aspect of this picture is that the combination of all the elements together creates the overall form of Christ's face. It brings a whole new meaning to the term 'Jesus Illusion'.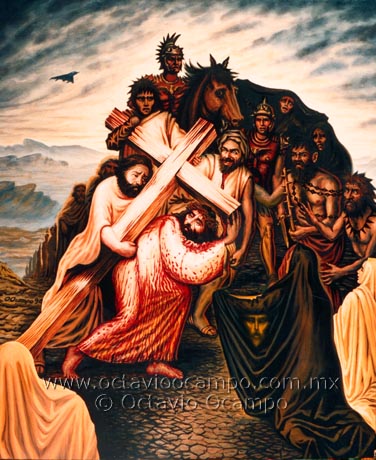 Image Credit: Octavio Ocampo
Comments ( 30 )
Posted by

charlitos

on November 24, 2009
i see it
Posted by

Maggie

on December 16, 2009
I can see it. It's inconceivable!
Posted by

JOBE

on January 29, 2013
WILL SOMEONE ANSWER WHY THERE IS A JET IN THE PICTURE SO I COULD GET EXTRA CREDIT IN MY RELIGION CLASS!!!!! PLZZZZZ THANK YOU
Posted by

tomtom

on January 26, 2010
i c it 2
Posted by on March 2, 2010
this is so awesome
Posted by

Peyton

on April 1, 2010
damn that is tight
Posted by

marie

on April 9, 2010
Oh crap dats sick kewl lol!!!
Posted by

Lilac

on April 27, 2010
I got the goosebumps when I saw the overall form of Jesus Christ's face. It took my breath away.. o_o
Posted by

:o

on July 11, 2010
DAAANNNNNNNNNNNNNGGGGGGGGGG!!!!
Posted by

issabella l

on April 2, 2011
wow thats awsome i didn't c it at first but when it did i got goose bumps and it took mi breath away
Posted by

rachna

on March 22, 2011
Why is there a fighter jet in the background?
Posted by

kathlynn and sabrina

on June 20, 2011
woah.. gave me goosebumps.we saw jesus hoding a cross,and also a big version of his face cool>>> and a jet-bird- and maybe even a unknown flying object
Posted by

redge

on September 17, 2011
i find it nc lol
Posted by

OMG

on June 25, 2011
OMG
Posted by

SREDEDE

on June 25, 2011
COOL FIGHTER JET
Posted by

AERH

on October 7, 2011
AMAZING!
Posted by

sophie

on July 9, 2011
Whats with the fighter jet?
Posted by

Kristeeeen

on October 20, 2011
Really cool!
Posted by

pipiana

on October 29, 2011
same i c it 2!!!!
Posted by

dd

on November 9, 2011
I saw while i was reading the paragraph above it!! that is soooo cool!! y the heck is there a fighter jet in the background?!?!?!
Posted by

lekkk shuu

on November 12, 2011
it scared the hell out of me... if use cant see it move bak and ull see his face in the cross
Posted by

Megan Kue

on November 13, 2011
why is there a jet in the back?
Posted by

sandi

on November 14, 2011
works even better when u stare at it and make ur eyes blurry
Posted by

WeAreWhoWeAre

on January 21, 2012
OMG! I didn't see anything so I read the comments below hoping to see that someone else put a comment saying that they saw nothin cos i din't wanna be the only 1 who saw nothing, but everyone had seen it so i though, ****, i'm the only one who can't see an optical illusion and he said, move back and conncentrate on the cross, so i did that and i saw it, and it took my breath away, it stopped me breathing. i even looked behind me i was so scared that jesus was behind me! it's soooooooooooooooooooooooooooooooooooooooooo spooky!
Posted by

may

on March 19, 2012
i couldnt see his face until i stood away from the screen...then i saw a big version of his face
Posted by

sashie

on September 5, 2012
dta shot me nah lie
Posted by

Orris

on November 10, 2012
Hell that's not Jesus face it's his head...creepy
Posted by

jackie

on December 4, 2013
amazing
Posted by

mariama

on November 6, 2015
i love jesus
Posted by

GOOD

on December 10, 2016
I got it!