Word and face illusion
Category: Double Meanings | Added: February 22, 2013 |

7 comments
In this double meaning optical illusion you can see the outline of a face of a man drawn in white against a black background. When you look more closely the white line turns into a word which becomes more obvious and easier to read if you tilt your head slightly to the right. See if you can spot what the four letter word says.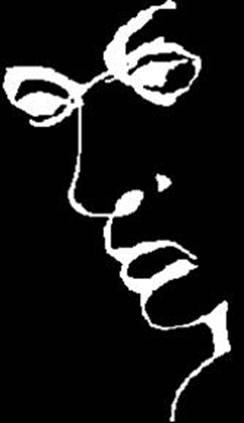 Image Credit: This image is believed to be in the public domain.
Comments ( 7 )
Posted by

lovatic

on May 16, 2013
LIAR!!!!
Posted by

lovatic

on May 16, 2013
LIAR!!!!
Posted by

Seth

on September 11, 2013
LIAR
Posted by

TAYLA

on May 14, 2014
The word reads liar just tilt your head to the right and you can clearly see it reads liar in fancy writing. its a good illusion i rate it 5/10
Posted by

dgsgf

on July 1, 2014
It was okay but it's not a surprise
Posted by

jennifer

on April 7, 2015
I agree its no surprise
Posted by

MFS Crafty

on December 16, 2015
the word is LIARR!
Add a comment
Your name:
Your comment:
What is the third letter of the word "graphics" ?