Hermann Grid Illusion
Category: Moving Images | Added: May 26, 2009 |

6 comments
This illusion was first devised in 1870 by Ludimar Hermann, it consists of a series of black squares and interconnecting white lines in a grid formation. When you look at it there appear to be grey dots at the intersections which jump around as you move your eyes over the image.

Warped Dotted Surface
Category: Moving Images | Added: May 26, 2009 |

19 comments
This headache inducing illusion is simply a static image of a green background with a series of blue dots, however when you look at it the whole thing appears to move and warp in a wave-like fashion.

Jesus Illusion
Category: Afterimages | Added: May 26, 2009 |

264 comments
To see the Jesus illusion in action, stare at the four dots in the center of the image for approximately 30 seconds, then quickly divert your eyes towards a blank surface such as a wall or ceiling. You should see the image transferred to that surface.

Spinning Spiral Circle
Category: Moving Images | Added: May 26, 2009 |

26 comments
This image is completely stationary however when you look at it the circles appear to be moving, especially if you move your eyes across it. The circle in the center appears to be moving clockwise and the large circle on the outside appears to moving counter clockwise.

Hot and Spicy Truck
Category: Photo Manipulations | Added: May 26, 2009 |

10 comments
In the last of his truck illusions series Pat McNulty has produced this image of a truck carrying Hot and Spicy Pringles crisps that appears to have been gutted in a fire.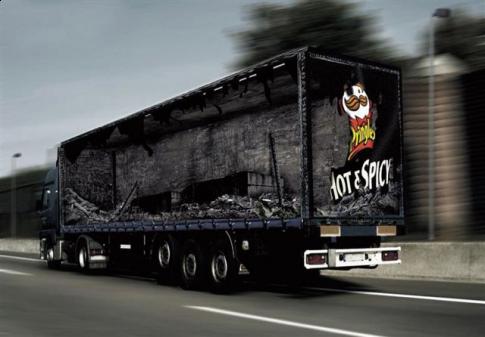 Image Credit: Pat McNulty