Sideways car illusion
Category: Double Meanings | Added: April 7, 2011 |

20 comments
This well circulated picture of a vintage car might seem like nothing unusual at a glance but look a bit closer and you'll notice that the direction its facing isn't quite as obvious as it first appears. The addition of the spare wheel works well to make the image even more confusing - is the car facing towards you or away from you ?

Carlsberg 3D White Cliffs of Dover
Category: 3D Illusions | Added: April 7, 2011 |

3 comments
Here's a truly impressive advertisement for Carlsberg using 3D projection mapping on England's White Cliffs of Dover. Moving images are projected on to the cliff face creating a realistic three-dimensional feature that looks like its actually happening. At the start, pieces of the cliffs break off and fall in to the sea, to remedy the problem a number of builders turn up and repair the broken rock. At the end a helicopter joins the fray to respray the cliffs white and the men enjoy a beer in celebration. With 3D cinema and televisions becoming increasingly common how long will it be before spectacles like this are commonplace ?

Floating tap illusion
Category: Impossible Objects | Added: April 7, 2011 |

21 comments
Here is an unusual spectacle that can be found at a water park called Aqualand in Puerto de Santa Maria, Spain. Visitors to the park are treated to a view of this faucet that appears to be floating in mid air above a pool in to which the water is flowing. The secret to this illusion lies in a pipe that is expertly concealed within the flow of water and which both holds the faucet in the air and supplies the water pouring from it.

Public lavatory false wall
Category: 3D Illusions | Added: January 15, 2010 |

13 comments
Bringing a whole new meaning to the term 'public lavatory' this piece of artwork featured on a far wall brings added depth to the room and showing what it might be like if other people were in there using the facilities. On a slightly different note - why is there a guy rolling a ball down the grooves in the floor ? Update: Turns out its not a ball but a sponge.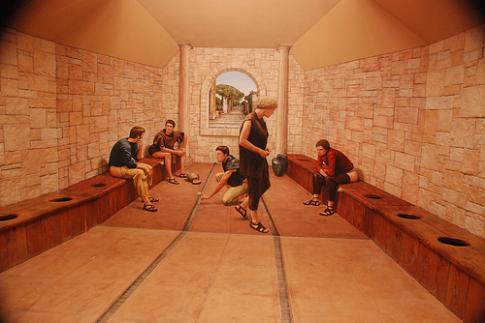 Image Credit: Flickr user celebdu

Leaning Tower Illusion
Category: Size and Distance | Added: November 30, 2009 |

24 comments
These two images of the Leaning Tower of Pisa are identical but if you look at them closely you'll notice that the tower on the right appears to be leaning more than the one on the left even though there is no difference between the two. This illusion won the Best Visual Illusion of the Year contest in 2007.