Pulsing Vortex
Category: Moving Images | Added: June 15, 2009 |

29 comments
Here's another illusion that seems to move, the image is completely stationary however when you look at it there appears to be a pulsing effect. Its a bit like a large booming speaker, imagine some loud, low notes being blasted out at you from the screen.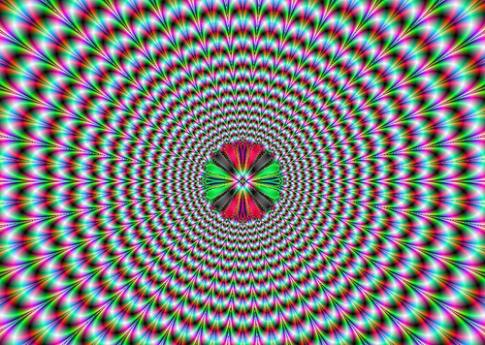 Image Credit: Flickr user ClintJCL

Towels Dog
Category: Double Meanings | Added: June 13, 2009 |

54 comments
Here's a picture of a pile of towels being used as a pillow by another pile of towels.. or is it a dog ? This cute little bundle of folds is actually a shar-pei puppy, he looks so much like the towel that you could almost mistaken him for one. Just don't put him in the washing machine by accident.

Bottomless Elevator
Category: 3D Illusions | Added: June 11, 2009 |

45 comments
Here's a trick to play on someone, take one elevator and paint the bottom of it with an anamorphic illusion to make it look as though it has no floor. This fellow doesn't want to stand on it and I don't blame him, the 'hole' looks so real its hard to tell that its only an illusion. Would you stand on there ?

Shadow Street
Category: Shadows and Mirrors | Added: June 9, 2009 |

20 comments
This one is quite confusing, what part of this picture consists of shadows and which of solid figures ? If you aren't sure, try looking at it upside-down.

Lunch With A Helmet On
Category: Shadows and Mirrors | Added: June 9, 2009 |

29 comments
Another illusion from Shigeo Fukuda, in this one he's welded together 848 knives, forks and spoons to produce an object the shadow cast from which forms the perfect shape of a motorcycle on the ground.