All is Vanity
Category: Double Meanings | Added: May 29, 2009 |

28 comments
In this 19th century painting by Charles Allan Gilbert a woman sits at her dressing table. Nothing unusual about that you might ask ? Take a closer look at the picture as a whole, in particular the combination of the mirror, the perfume bottles and the woman's reflection. There's a second image here that isn't quite so obvious.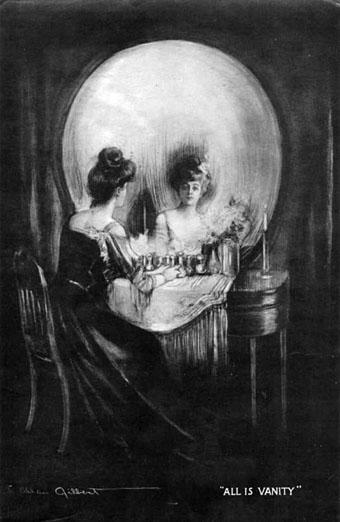 Image Credit: Charles Allan Gilbert
Comments ( 28 )
Posted by

Mick

on June 14, 2009
Another skull?
Posted by

Gabe

on September 23, 2009
What the?
Posted by

Minty Jr

on November 5, 2009
It's a girl At her vanity putting make-up on looking at her reflection
Posted by

easy

on November 20, 2009
its a SKULL
Posted by

mer

on November 25, 2009
it is easy to spot the skull!
Posted by

mer

on November 25, 2009
also, look, when you click this picture (before it opens to this page) u can see its a skull!
Posted by

megan

on March 1, 2010
That one was obvious, but, hey, what do you expect?
Posted by

michael straw

on March 22, 2013
The origanal painting sat in my grandmothers house for years before it was stolen any idea where it is?
Posted by

bridges neilsen72

on June 12, 2010
obviously u c a skull but look closer n u c a lady looking @ herself n da mirror
Posted by

mahigt

on June 22, 2010
Skull obvios skull
Posted by

Rachel

on January 23, 2011
I see the image of the lady looking at herself in the mirror, the skull - and a little girl. Look at the image between the shoulders of the women, and you'll see the dark hair and the eyes of a little girl.
Posted by

sunny

on March 7, 2011
wow... thats scary kinda. see both skull and woman.
Posted by

gusdivxchjgidnyuah

on March 14, 2011
its a mirrror even my sister said that and shes 4
Posted by

TRIXY

on May 3, 2011
all ji saw was the skull
Posted by

kathyin and sabrina

on June 20, 2011
cool. i saw a skull a women and her reflectection, and two women dining on a table
Posted by

JD

on October 15, 2011
weird i saw the skull first took me a minute to find the girl ! lol
Posted by

Dd

on November 9, 2011
WTF!!! that is very creepy to me
Posted by

jess

on January 30, 2012
I saw the skull firs
Posted by

may

on March 18, 2012
i see a woman with her reflection and 2 women dining at a table.
Posted by

hailey reaves

on May 28, 2012
i see a girl at her vanity putting makeup on and looking at her reflection whil i also see a skull. this stuff cool
Posted by

sashi

on September 5, 2012
i see a skull
Posted by

karen Meza

on October 1, 2012
I love this picture used to have it .Picked it up at a fles market years ago !!It is kinda true ,Vanity can be ugly if all you are is concerned with your looks !!I want to put this on my FB.Wall!Skull & then look a little closer a woman looking into a vanity mirror!!
Posted by

Beth

on November 24, 2013
My aunt had this image on a wall near the door entering our bathroom, it used to scare the hell out of us as children. I think it is great now.
Posted by

Rebecca Cool

on February 8, 2014
They showed this picture in the video F.A.T City- How Difficult Can This Be? s/o called it Deathstalker, but in real, it was just a lady
Posted by

mike the bike

on December 11, 2014
I've always admired this deception into reality. her vanity is man's pleasure. it's man's vanity to escort such beauty. she is a constant source of pleasure, she spends eternity fulfilling man's appetite for her company.
Posted by

Richard

on December 4, 2016
I have mine hanging up between my dining room and kitchen. It makes a GREAT conversational piece. People will first see it from a far and asks the same question, "why do you have a skull" hanging up and then they are shocked what they see when they view it closer. I do like this print. I see someone selling one on eBay for $300+ claims it is an original.
Posted by

Cheryl

on April 27, 2017
This will be my next tattoo!!
Posted by

sass dupont

on October 31, 2017
this picture was a head of its time and its beautiful