Impossible Columns
Category: Impossible Objects | Added: May 29, 2009 |

9 comments
This Roman soldier looks a bit perplexed and its no surprise, how many columns are there exactly ?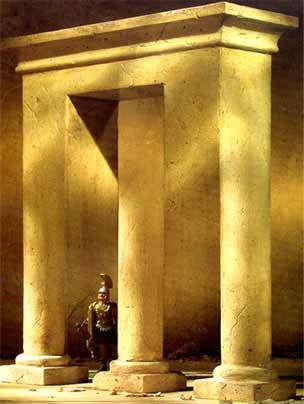 Image Credit: This image is believed to be in the public domain.
Comments ( 9 )
Posted by

Carter

on December 22, 2009
Look cloesely you will gradualy begin to see that it is only the reflection of the wall on the (RIGHT) And the shaded pillar on the (LEFT)
Posted by

lee

on August 21, 2010
cool
Posted by

dindy

on November 14, 2010
there are only two 2 columns. But because of the shadow,it appears that there still another column at the back part
Posted by

Renti

on December 21, 2010
I SAW THAT ON A BOOK... IT IS ON A MIRROR!!!!!!!
Posted by

I know!

on December 31, 2010
there's five columns
Posted by

yvette

on March 19, 2011
it's like the blivet
Posted by

Karla

on November 16, 2011
There are 3 columns because if you look down, there are three columns that touch the ground.
Posted by

x

on March 20, 2012
It's two pillars there, but someone (maybe Caesar) put the end of a pillar in the picture
Posted by

terd munch

on March 13, 2015
3 piliers
Add a comment
Your name:
Your comment:
What is the third letter of the word "graphics" ?