Bird in the bush triangle illusion
Category: Shape and Color | Added: February 10, 2013 |

20 comments
This optical illusion is one of those kinds where your brain works faster than your eyes and you think you have read the text correctly when in fact you most likely have not. So let us start by looking at this optical illusion again. What do you see? Here we can see an image of a red shaped triangle with some white text written inside it. The text is a simple short message and reads "A Bird In The Bush." Or does it? Read the text inside the triangle again and you will see what I mean. I am not going to tell you what it says, so see if you can figure out what you have missed.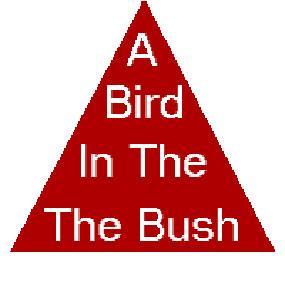 Image Credit: This image is believed to be in the public domain.
Comments ( 20 )
Posted by

Lucas

on April 27, 2013
To a wile to figure out
Posted by

Lucas

on April 27, 2013
You guys are AWSOME
Posted by

megan

on May 19, 2013
I read through it once then 2nd time I noticed it ;o;
Posted by

vidya

on June 3, 2013
gyz u r awesome i cant identify in the first time i read..
Posted by

Jay

on June 8, 2013
what does it say
Posted by

ooooo

on August 23, 2013
now i see it
Posted by

Nar

on September 15, 2013
I've been staring with my friend for thirty minutes now, and we can't see a thing -_- I'm getting frustrated with this! What does the words say?!
Posted by

Nar

on September 15, 2013
looooooooooooooooooooooooooooooooooool we got it! Gosh we're blind xDDDDDDDDDDDDDDDDDDDDDDDDDDDDDDDDDDDDDDDD this was great! Simple and freaking GREAT!
Posted by

Amsath

on December 4, 2013
Guys I'm trying for 7 mins.but i couldn't.whats that word?
Posted by

Jashar

on January 2, 2014
A Bird In The The Bush Read this and read inside the triangle again...
Posted by

january

on January 7, 2014
it says a bird in the the bush it was soooooooooooooo so soo easy i got it in the first try not lying
Posted by

Gavin

on January 26, 2014
2 the
Posted by

Kristene

on March 7, 2014
I really cannot see it! I'm really frustrated, seriously!!
Posted by

epic bro

on March 9, 2014
what the hell does it say! I'm getting really frustrated! D:
Posted by

princessangel10

on May 3, 2014
What does it say please tell me!!!
Posted by

Joy

on May 18, 2014
"The" is written twice. Look!
Posted by

Ifty

on May 21, 2014
there's a second "the"!!!
Posted by

Jennifer

on June 2, 2014
OMG wow it took me like 4 times til I noticed it. And I'm thinking 'they're pulling my chain, there's nothing wrong!'
Posted by

TheSmartDog

on October 7, 2014
"A bird in the the bush"
Posted by

Sharp509

on October 16, 2014
Ohhh! I was soo stupid and I didn't read it carefully. I saw 2 ''the'' but I still didn't read it carefully! LOL
Add a comment
Your name:
Your comment:
What is the third letter of the word "graphics" ?