Shadow woman illusion
Category: Shadows and Mirrors | Added: February 11, 2013 |

6 comments
There are a number of different objects in this optical illusion including a table, a pair of shoes, a folding deck chair and a bottle of wine. All these items have been strategically put in place so that when you look at the image it casts a shadow on the wall behind them. The shadow gives the appearance of a woman reclining in her chair and sitting with her feet up on the table while holding a glass of wine up to her mouth.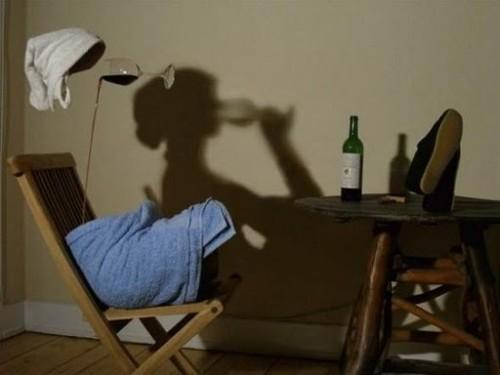 Image Credit: This image is believed to be in the public domain.
Comments ( 6 )
Posted by

karima nadim

on July 20, 2013
amazing
Posted by

Amber

on September 1, 2013
?
Posted by

KellyKelly

on September 8, 2013
it's fake.
Posted by

january

on January 7, 2014
ghost ??? ahhhhh.....run for your eyes
Posted by

pachanou

on December 15, 2015
Sorry, i must be stupid cause i don't understand it. What makes the shadow of the head? The body and the arm? Really don't get it. If you pass by here, could you explain it to me please?...Thanks.
Posted by

sak

on May 9, 2016
thee invisible lady/GHOS...SSST