Oleg Shuplyak hidden face illusion
Category: Illusion Art | Added: February 9, 2013 |

2 comments
Here we have another beautiful oil painting by the very talented Ukrainian artist Oleg Shuplyak. In this picture he has painted a country scene of a little boy sitting beside some lambs in a field with some cottages in the background. It all looks very peaceful and relaxing. As with all his artwork Oleg Shuplyak uses hidden images to produce amazing optical illusions and this painting is no exception. If you look closely at this masterpiece you can see it also depicts the face of a man with a white moustache.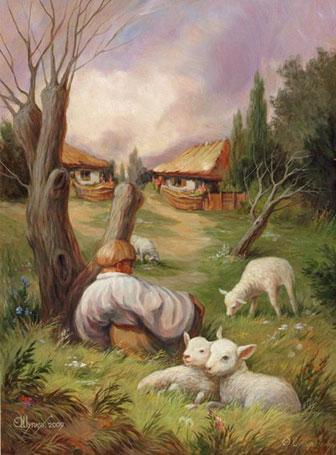 Image Credit: Oleg Shuplyak
Comments ( 2 )
Posted by

marilyn chapman

on June 20, 2013
Does anyone know where I can get a version that we can blow up to A3 and not lose any clarity
Posted by

dylan sheldahl

on April 9, 2015
Lol i saw the face first :3
Add a comment
Your name:
Your comment:
What is the third letter of the word "graphics" ?