Buenos Aires Street Art
Category: 3D Illusions | Added: June 3, 2009 |

7 comments
Street artist Julian Beever sits on a rock as part of his chalk drawing of a hole in the pavement filled with water and ants for a promotional campaign.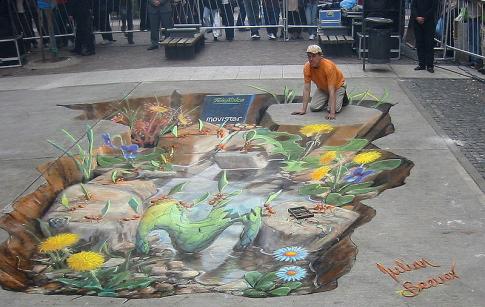 Image Credit: Flickr user Lrargerich
Comments ( 7 )
Posted by

Poo

on January 21, 2010
this is the most beautiful drawing ever how someone could do this i do not know.I LOVE THIS WEBSITE!!!
Posted by

who cares!

on February 24, 2010
wowww!!!! that is amazingg haha.i wonder how they get it to look like that haha.???
Posted by

Dude

on April 16, 2010
She/He didn't draw it alone
Posted by

galadrial

on June 21, 2011
just added this website to faveourites i could go alllllllll day B)
Posted by

s

on March 11, 2012
eeeeeeeeeeeeeee
Posted by

Glory

on April 24, 2012
-Thats Epic!..! :)
Posted by

shiva

on November 15, 2013
super drawing i would like to offer10,000$