Bleue Beer
Category: 3D Illusions | Added: June 3, 2009 |

11 comments
A julian Beever chalk drawing of a crate and bottle of beer as part of a promotional campaign. In this one you can see the instructions for where to stand on the ground when viewing the image for the best effect.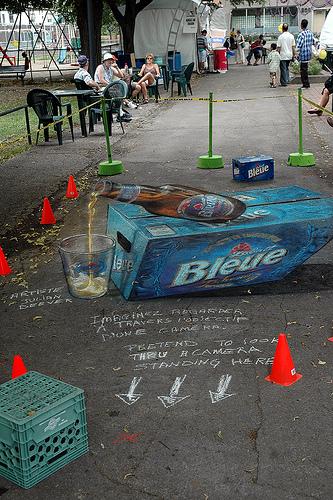 Image Credit: Flickr user caribb
Comments ( 11 )
Posted by

anonimus

on September 26, 2009
wow this is awsm i give props to the artist
Posted by

Poo

on January 21, 2010
i like this drawing its quite cool
Posted by on May 14, 2010
make it better
Posted by

Jack

on January 8, 2011
MORE Colour and detail and will be perfect, but the cones are very realistic (some of them).
Posted by

Jack

on January 8, 2011
no, they are real!
Posted by

ricky burnall

on June 21, 2011
that is an amazing peace of work but i cant get how someone can do that
Posted by

may

on March 19, 2012
looks unreal but i believe it is true, i think
Posted by

cato

on May 30, 2012
Everything in the pic is real except the beer
Posted by

whtevs

on October 3, 2012
It's really realistic
Posted by

MARISOL VILLALOBOS4

on June 7, 2013
my ant draws that
Posted by

january

on January 7, 2014
its cool but i can see at the first secont i saw it i saw that it is drawn it did not fool me
Add a comment
Your name:
Your comment:
What is the third letter of the word "graphics" ?