Brass Band Street Art
Category: 3D Illusions | Added: June 3, 2009 |

9 comments
An anamorphic 3d chalk drawing of a band playing with a marine theme, the band appars to be bursting out of the pavement along with a number of lobsters and fish.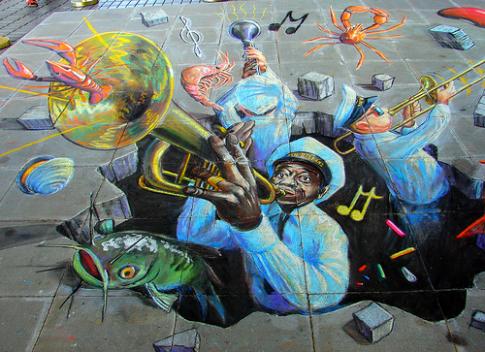 Image Credit: Flickr user howieluvzus
Comments ( 9 )
Posted by

Poo

on January 21, 2010
this is really 3D its amazing
Posted by

ithinkiluv56

on September 25, 2010
thatis really interesting i am,myself,an artists and it is very hard to creat an illusion as intercite as this;trust me iev tryed,it took me hours on end
Posted by

yo

on July 16, 2011
koolio
Posted by

Hi.......

on September 28, 2011
That is amazing! Congrats to the artist!
Posted by

trisha818

on August 15, 2011
interesting
Posted by

Liv

on December 22, 2011
Wow, very well done, if you look at the grid on the floor that help with how its been done.
Posted by

Gabby

on May 16, 2012
What up with the fish?
Posted by

curryman

on June 6, 2012
awesome, like my curry
Posted by

SpiritClawAJ

on November 11, 2015
LOL,sure? :3