Cow and faces illusion
Category: Double Meanings | Added: February 13, 2013 |

3 comments
I think most people have heard the saying about cows being curious and the black and white cow staring back at you in this image is no exception. I am curious myself about what this cow is interested in when the other cows in the herd are busy grazing in the background. Perhaps the photographer is showing it a handful of hay in order to grab its attention. Who knows, but it looks like it has had the desired effect. So going back to the cow's face, if you look carefully at it, not only do you see the cow's face but it also gives the illusion that there are two black silhouettes of human faces looking towards each other.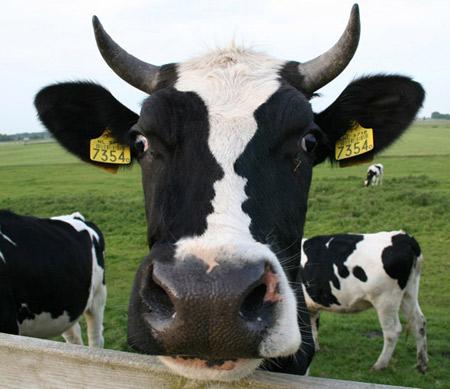 Image Credit: This image is believed to be in the public domain.
Comments ( 3 )
Posted by

Angie

on July 29, 2013
A female and a male about to kiss!
Posted by

jay

on November 22, 2013
like two people about to get into a fight looks like a stare down
Posted by

louis

on February 2, 2017
savage I get it !!!!!!!!!!!!!!!!!!!!!!!!!!!!!!
Add a comment
Your name:
Your comment:
What is the third letter of the word "graphics" ?