Floating Circle
Category: Size and Distance | Added: May 29, 2009 |

14 comments
The circle in the middle of this picture looks as though its floating above the background. It looks like the blurring on the pattern of the circle creates the illusion that it is closer to your eyes than the background.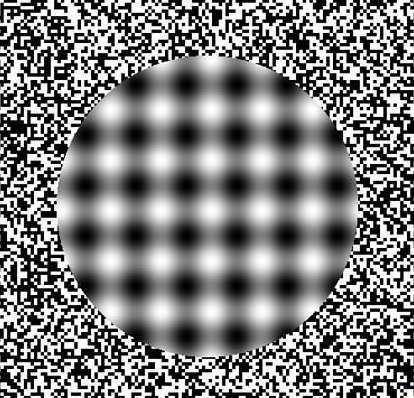 Image Credit: This image is believed to be in the public domain.
Comments ( 14 )
Posted by

Dawn

on October 10, 2009
this look like a blank t.v. screen before it blacks out.
Posted by

m!ck3y :)

on April 30, 2010
dis is so scary its sooooooo fun i think im going out of my mind just looking at it! bye
Posted by

jalynn and christopher

on June 28, 2010
my friend and i see that it slightly moves...the blurred part.
Posted by

Zoe

on August 2, 2010
To me its like the backround is closer..............That's just me though.
Posted by

lala

on October 19, 2010
Imma have a seizure bye!
Posted by

Marshmellow 1.14159

on May 3, 2011
it doznt look like its floating at all . Mabey theres something wrong with me !!!!!!!
Posted by

Hahahah

on May 31, 2011
I dont see it flouting... Anyway if it did work for me i would say.... AWESOME!!! WOOOOOOO
Posted by

bob

on October 20, 2011
the third letter is a
Posted by

billy-jo

on October 21, 2011
I think you optical illusion was the worst ever because it didn't have any effect
Posted by

chandler

on April 10, 2012
i agree with zoe.... i think the background is closer
Posted by

'may

on March 19, 2012
it is moving a little.
Posted by

dj

on April 23, 2012
on nah cool!
Posted by

hailey reaves

on May 28, 2012
wow! i can only see that the blurred part is slightly moving when you move ur head while looking at is but no floating
Posted by

lisa33465

on March 5, 2014
totly asome