Linked Triangles
Category: Impossible Objects | Added: May 29, 2009 |

11 comments
As if one impossible triangle wasn't enough here we have three triangles connected together in an impossible manner. Can you worked out how these are linked ?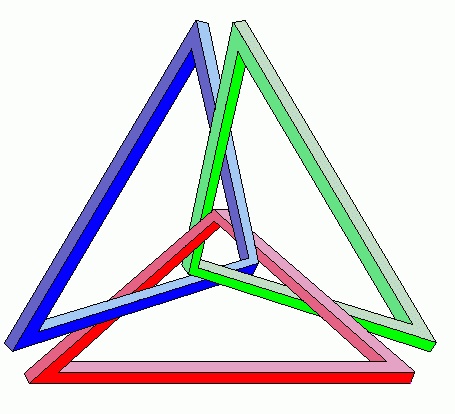 Image Credit: Henry Bottomley
Comments ( 11 )
Posted by

hah

on October 23, 2009
The blue and red triangles aren't connected.
Posted by

lol

on February 23, 2010
its simple the blue triangle corner is pushed through the red triangle and then the green triangle goes through the middle.
Posted by

Neo_TheOne

on April 15, 2010
Its the simplest thing...the green and blue are not joined,in fact the green is just put in front of the blue...and the red is pushed through the both of them HAH i got it
Posted by

Michelle

on May 13, 2010
None of them are connected.
Posted by

jodi copland

on May 30, 2010
i think that this trick is absoloutley amazing and totaly unbelievable woooow
Posted by

knowledgable

on August 3, 2010
It is photoshopped.
Posted by

Micah

on April 19, 2012
None are connected EPIC WIN
Posted by

crazyidea

on April 25, 2012
raised the red triangle up,,
Posted by

Smartest one thats right

on July 28, 2012
none of em are join
Posted by

pop

on November 8, 2012
tey are!
Posted by

Febuary

on February 28, 2014
only the red and green triangles are linked, the green one went inside the blue one so that they were all connected
Add a comment
Your name:
Your comment:
What is the third letter of the word "graphics" ?