Gradient Stripe Illusion
Category: Shape and Color | Added: June 4, 2009 |

15 comments
This image shows a grey stripe on a gradient background. The stripe appears to be shaded with a grey gradient also, however if you look closely you'll see that in reality the stripe is the same color all the way across.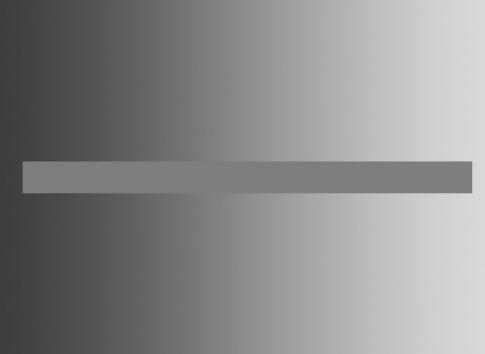 Image Credit: Wikipedia user Dodek
Comments ( 15 )
Posted by

julesssss

on August 19, 2009
n its not! lol that's stupid!
Posted by

Lyn

on September 24, 2009
Nope, not stupid. Paste this in a paint program and take a square from each side and compare them. Exactly the same.
Posted by

GHOST!

on November 23, 2009
its the same color
Posted by

sdh,fkvdklgj;f

on February 13, 2010
turn your head and look at it it is the same color
Posted by on May 24, 2010
its the same color but its kinda stupid cuz u cant tell
Posted by

someone

on July 10, 2010
it is real. paste it to any drawing program, pick the color of the middle bar, and draw a line in the backround. its the same color!
Posted by

Nickellsac

on March 9, 2011
You people make this hard. All you have to do is cover the top and the bottom of the line with a piece of paper revealing, tada, a solid colored line!!!
Posted by

Naah

on October 10, 2011
Not the same colour
Posted by

mc

on October 26, 2011
stupid
Posted by

craig sloth

on January 17, 2012
thats genius
Posted by

ginja ninja

on January 25, 2012
make a small square with your fingers about this size> and drag it across the line then youl see its the same colour
Posted by

cn

on March 4, 2012
dude, thats creepy
Posted by

Bryanna

on December 26, 2012
That's crazy! It actually works! I didn't believe it when I first saw it, but I put a pice of paper over the top and bottom of the line and saw that it was completely one shade of gray!Cool!!
Posted by

Legolas lover

on June 8, 2013
it is not the same color. i thought this one was going to be cool
Posted by

Nelson

on May 16, 2017
Everybody it's the same just agree on it