Hermann Grid Illusion
Category: Moving Images | Added: May 26, 2009 |

6 comments
This illusion was first devised in 1870 by Ludimar Hermann, it consists of a series of black squares and interconnecting white lines in a grid formation. When you look at it there appear to be grey dots at the intersections which jump around as you move your eyes over the image.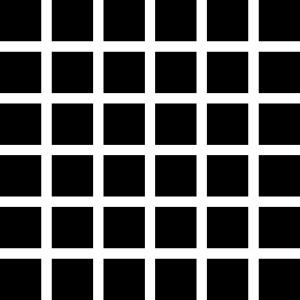 Image Credit: Ludimar Hermann
Comments ( 6 )
Posted by

dhruvi

on October 8, 2009
I am a kid and I want to comment about all these images. I learnt the same thing at school. All my classmates were so shocked to see the circles spinning. I am so surpised that the image appears moving to my eyes. I love my eyes.
Posted by

john browinig

on January 25, 2010
cool seen it b4
Posted by

sophie

on June 30, 2011
Believe it or not there's no dark patches.
Posted by

Kron Myeku

on December 18, 2011
Im seeing shady dots
Posted by

LouLou

on February 12, 2012
im not lying!!!!!!!!! :) THERE R BLACK DOTS THE MOVE THO!!!!!!!!lol :)
Posted by

Earbuds13

on December 5, 2012
Dang so frickin real...