Warped Dotted Surface
Category: Moving Images | Added: May 26, 2009 |

19 comments
This headache inducing illusion is simply a static image of a green background with a series of blue dots, however when you look at it the whole thing appears to move and warp in a wave-like fashion.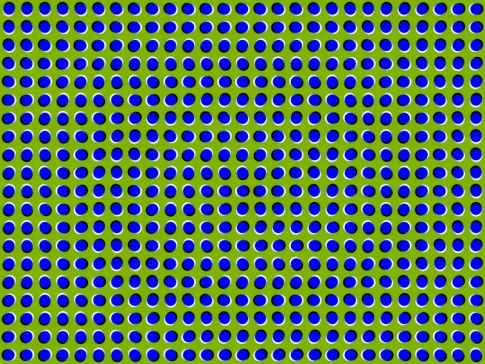 Image Credit: This image is believed to be in the public domain.
Comments ( 19 )
Posted by

Erris

on November 17, 2009
Weird. Like a fat slug moving around below a gaudy blanket!
Posted by

Poo

on January 21, 2010
not weird, cool it makes me squirm inside its cool and funny admit it come on everybody should love this
Posted by

ed

on January 25, 2010
therez a dip in the middle, thatz all
Posted by

who cares!

on February 24, 2010
HAHAHA!WERID:):)
Posted by

ammara_amy

on March 14, 2010
oooooo... really it hurts your eyes.... the image swirls n twirls!! ;D
Posted by

whatzup

on June 15, 2010
it moves and its really wierd XD but its funny when you see peeps get confused! LOL and ROFL
Posted by

kill and death

on June 28, 2010
what the hell is wrong with this damn pic?!
Posted by

pipiana

on October 29, 2011
to sspitter you suck!!!!!!
Posted by

Kron Myeku

on December 18, 2011
OMG ITS CHANGING ITS POSITION!!!!!!#_#
Posted by

nana

on February 12, 2012
wow, COOL!
Posted by

TLW

on March 12, 2012
Hahahahah........ lol my friend walked down sairs when i was looking at this, i looked like a nerd cuz i was moving my head so the dots would move........lol but this is so messed up!!!!!!
Posted by

fungalei

on June 27, 2012
The blue dots are what make the illusion notice the eat blue dot have a black outline each one significant to its position in in the illusion so that it looks like its moving
Posted by

The Queen of Romania

on July 24, 2012
i love these things, its art and fun, ( don't like them, put on a blind fold, love them? stare at them all day but don't strain your eyes on the screen. )
Posted by

Pie

on July 24, 2012
it looks like connect four but bigger its wavy and whoever cant see it is dumb and wont get a cookie
Posted by

bobjaj

on September 12, 2012
wow i cant belive it im shooked
Posted by

john

on May 24, 2013
tripppppppppppyyyyyyyyyyyy
Posted by

PRIVATE

on December 16, 2013
its like its coming out the screen and waving and going back in.
Posted by

krish

on August 27, 2016
it gave me headache but it was nice
Posted by

Jackwolfsbane

on July 22, 2017
The black and white bands create the illusion of shadow, or depth, as your brain interprets it. The depth is impossible because the shadowed object, in this case, the bright colors, forms a circle. Your brain tries to explain the apparent depth of a flat circle by assuming it's moving.