Scintillating Grid Illusion
Category: Moving Images | Added: May 26, 2009 |

10 comments
The scintillating grid illusion is very similar to the Hermann grid illusion and was devised in 1994 by E. Lingelbach. Like the Hermann illusion the image consists of a grid of black squares divided by lighter colored lines, however unlike the Hermann illusion this one has white circles already present at the intersections. This time when you stare at the image the white circles appear to have black dots appearing inside them.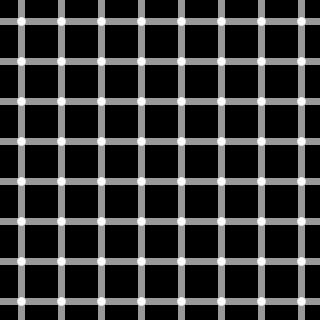 Image Credit: E. Lingelbach
Comments ( 10 )
Posted by

bob

on June 7, 2010
thats too cool to be true
Posted by

peeps

on June 15, 2010
this makes my eyes hurt!!! :)
Posted by

huunqs6nq

on June 21, 2010
I implemented this illusion on the door panels of my car! I used 1/2" grey vinyl pinstriping and 3/4" white vinyl dots. Make the squares 3" x 3". My door panels are a medium blue and the illusion works perfectly!
Posted by

thats cool

on March 27, 2011
i seeeeeeeee black dots in the middle of the white dots moving fast everywhere i look....
Posted by

interested

on April 28, 2011
at what max size does this illusion fail to work?
Posted by

dikelshinter

on December 21, 2011
now i see dots every were...
Posted by

may

on March 18, 2012
black dots moving fast with my eye as i look at white dots.stop it now!!
Posted by

Masen

on August 1, 2013
STOP MOVING!!!! :)
Posted by

Weird fit

on April 10, 2015
This is wicked awesome
Posted by

D lil engine that could

on April 10, 2015
Is this freaking realllllll Mega coooollll!!!!!!