Hidden animals in trees illusion
Category: Shape and Color | Added: March 7, 2013 |

8 comments
In this simple black and white optical illusion drawing you can see a group of trees. Hidden amongst the trees are a number of animals which include a lion, deer, pig and a horse. Those are the easier one which I have been able to pick out, how many animals can you spot? I believe there are at least eight hidden in this image.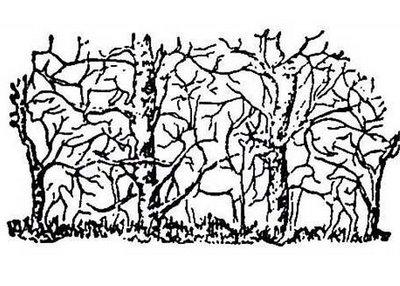 Image Credit: This image is believed to be in the public domain.
Comments ( 8 )
Posted by

CalebBoone

on March 22, 2013
Set the world on fire! BVB 4 ever
Posted by

abinaya

on June 4, 2013
I saw this same picture in chutti vikadan(june2013)
Posted by

Gavin

on January 26, 2014
c all 8
Posted by

lina

on January 25, 2015
Awesome
Posted by

jennifer

on April 6, 2015
me to I can see all eight
Posted by

Clifton Fitzgerald

on April 18, 2015
8 4 8.
Posted by

MFS Crafty

on December 16, 2015
I see eight but i saw something weird over the deer on the right side.............
Posted by

jangam harsha

on February 9, 2016
i see 10 .... but it was great! !! !!! !!!! !!!!!