Black chair illusion
Category: Double Meanings | Added: March 8, 2013 |

13 comments
Here we have a picture of a black chair, the type you would find belonging to a set of furniture to match the dining room table. When you first look at this chair you will probably think you are seeing it from the front. However if you focus your attention more on the vertical bars running down the back of it, it gives the illusion that you are looking at the chair from the back. So which way do you think this chair is really facing?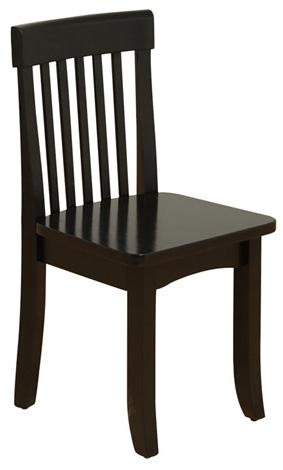 Image Credit: KidKraft
Comments ( 13 )
Posted by

sydney jacobs

on June 19, 2013
illisions make your head sore.
Posted by

maria

on July 11, 2013
this is awesome!
Posted by

ivan

on July 23, 2013
Your facing the front because if it was from the back, from right to left the back of the chair would be going down and the left foot would be smaller
Posted by

Gwen

on July 24, 2013
The shadow gives it away.
Posted by

JAKE

on January 28, 2014
COOOOL!!!
Posted by

not a computer

on March 31, 2014
I c the illusion but its from the front though, u can clearly c the reflection. still very cool though
Posted by

a vacuum

on July 13, 2014
i think its really a pic from the front cause the shadow ya this one was ok kinda iffy
Posted by

Abueng Paulo

on August 5, 2014
the reflectionz blows it off....
Posted by

bob

on October 24, 2014
the chair is definately photographed from the front, as an artist I have to squint just to pretend to see it from the back because the reflection isn't anywhere near perfect enough. The perspective appears off for the back view, but the reflection gives it away. The reason the reflection gives it away - it blurrs towards its extreme and the angle of the reflection is off by a few degrees.
Posted by

3

on November 19, 2014
there are three ways you can make this look: Front Back and Bottom Back
Posted by

Ani

on February 10, 2015
the pic is from front. As the lines of back part of the chair reflect on the sitting place and break a bit. those lines make an illusion that we see it from back, but really it's front.
Posted by

madhu

on May 21, 2015
Front look.
Posted by

MFS Crafty

on December 16, 2015
Your seeing it at the back because if its a the front it would have 4 legs facing the front right but the shadows go with the bars on the chair so the answer is the back not front if it is at the front there would be shadows coming from the sides i think but i see it as the abck i saw this in school so thats my opinion.
Add a comment
Your name:
Your comment:
What is the third letter of the word "graphics" ?