Hidden baby illusion
Category: Double Meanings | Added: February 25, 2013 |

21 comments
On first glance you can see this is a black and white picture of a young couple looking across a stretch of water. In the distance there is an island of trees and the couple are also standing next to a tree on the banks of the water. Just a romantic and peaceful scene you might be thinking to yourself with nothing more to see, however there is more to be seen in this image - an outline of a hidden baby in the womb. Can you see it?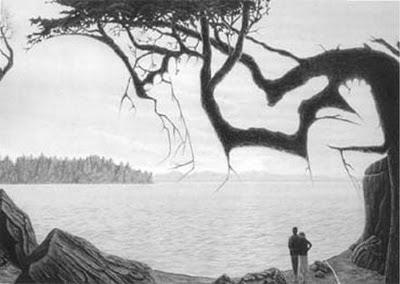 Image Credit: This image is believed to be in the public domain.
Comments ( 21 )
Posted by

Michelle

on May 14, 2013
I see it. That's really creepy
Posted by

Janice

on May 15, 2013
This is my favorite one. It's relaxing, yet creepy knowing that a couple is standing in the middle of a womb.
Posted by

Cherry

on May 15, 2013
I thinks thats a super sweet illusion!! It's like, so you see two people just standing there, minding their own buisness, and not knowing that theres like this really creepy baby lying in a womb is right above them......Hey, I say its a sign from God, CLEARLY the woman is pregnate...Just goes to show who uses protection and who doesnt. No Glove, No Love!
Posted by

lili

on August 21, 2013
i see it
Posted by

angler

on August 22, 2013
sooo sweet
Posted by

yeye

on January 26, 2014
I see it clearly
Posted by

Saranya

on February 20, 2014
Hey i can't fint it..wher is it??
Posted by

Anon

on March 31, 2014
You can't see it because you cannot see it
Posted by

somalatha

on July 3, 2014
greattttttttttt
Posted by

Baba

on July 9, 2014
what is the name of the artist who produced this? I really would love to know.
Posted by

chetan..

on July 12, 2014
wow...its so amazing......rly very nice1
Posted by

Iso sarah

on February 26, 2015
wooooow........ dats amazing. i love that
Posted by

koki

on April 5, 2015
a see a huge unborn baby
Posted by

jennifer

on April 6, 2015
I looked it up online it happens to be jesus when he was born. it was just couple who just randomly took a picture and noticed
Posted by

Lizzy Smith

on July 10, 2015
Where can I buy this photo?
Posted by

Wello

on September 19, 2015
There are several hidden hearts as well
Posted by

Andreas

on November 6, 2015
The big baby maybe tells the destiny of the couple or the wish they have. The connection between love, nature and the baybe itself ore the interconnection between Love and Evolution, Ontogeny... beautiful!
Posted by

idon'ttrustyou just sayin

on November 24, 2015
I see it. That's really creepy just like Michelle said.
Posted by

lolsup

on February 23, 2016
where is it i cannot find it
Posted by

workinhard

on July 19, 2016
Wow that one took me a while to see the huge babies face in the underside of the branches and the fingers and toes. Well done and very different.
Posted by

debcase42

on November 14, 2016
I found a big baby now I'm going to go back in to look for more adults and children. ts