Horse frog illusion
Category: Double Meanings | Added: January 25, 2013 |

17 comments
On first glance this is an image of a horse's head, but when you turn the image around you can see the head becomes an image of a frog sitting on a rock surrounded by water.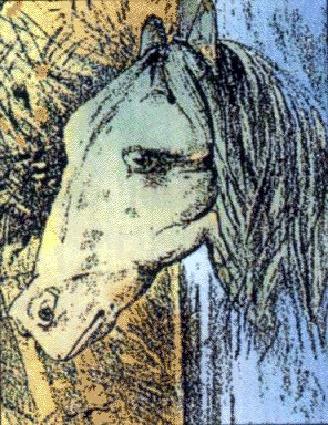 Image Credit: This image is believed to be in the public domain.
Comments ( 17 )
Posted by

lucy

on January 26, 2013
wow thats aweosme !!!!
Posted by

David

on November 10, 2013
Ohhh I finally see it.
Posted by

layla

on December 23, 2013
there's no frog because i can't see anything else but a hosre nothing else just a horse
Posted by

dude

on February 6, 2014
rotate left
Posted by

bro

on February 7, 2014
I dont see it
Posted by

bro

on February 7, 2014
I c it
Posted by

jenny

on February 17, 2014
what i dont c it
Posted by

sup

on April 1, 2014
the nose is the frogs eyes
Posted by

lona

on September 17, 2014
I c it
Posted by

Cycan

on October 16, 2014
Tip your head to the left until you see the picture horizontally then you'll see the frog. Hope that helps for those who couldn't see the frog. :)
Posted by

Elizabeth

on February 27, 2015
Turn your head to where the blue part is on the bottom.
Posted by

idon'ttrustyou just sayin

on November 24, 2015
i see it weird tho
Posted by

LucyLamyaToonasa16

on November 3, 2016
i c it
Posted by

Zach

on April 19, 2017
They both have the same mouth though.. That's pretty cool.
Posted by

thatonereallycooluserbutverylong

on May 25, 2017
cool me dood
Posted by

Derekblue1

on July 25, 2017
I recognized it, when vertical, I see a horse and when turning head to the left, I see a frog.
Posted by

Jay

on December 28, 2017
I absolutely loved this illusion when the freshman Austin, showed me his creation in 1988