Young lady or old woman illusion
Category: Double Meanings | Added: January 27, 2013 |

16 comments
On first glance you can see the head of a young lady wearing a hat with her head turned looking to her right, but if you look at the image more closely you can also see an old woman with her head looking down. Which image stands out the most to you? The young lady or the old woman?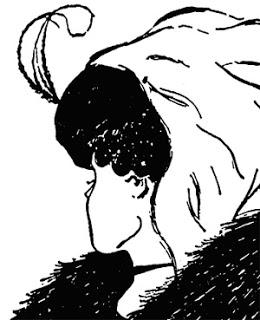 Image Credit: This image is believed to be in the public domain.
Comments ( 16 )
Posted by

Rina

on May 1, 2013
I see both but the first glance, I saw the old lady. Then I saw the young lady. Now I see both at once.
Posted by

larry

on September 2, 2013
I dont see the old woman
Posted by

Max

on September 23, 2013
The young womans ear is the eye of the old lady and the young womans chin is the old ladies nose. Maybe that helps to find her ;)
Posted by

january

on January 7, 2014
both i read a book last year and i remember that illusion i saw it at first sight
Posted by

Gavin

on January 26, 2014
I see both it is cool it took me like 5 minuts to see it.
Posted by

Leo

on April 18, 2014
Great art
Posted by

Joe

on April 18, 2014
Found both!
Posted by

Bryan

on April 28, 2014
Both
Posted by

Jester

on October 16, 2014
Both. My teacher showed us that image at school. It was really cool at first.
Posted by

Elizabeth

on February 27, 2015
I don't see the old lady
Posted by

Elizabeth

on February 27, 2015
I see the old lady now
Posted by

Danny

on March 30, 2015
I can see the young lady :) 60/40 young lady: old lady
Posted by

Tay

on September 7, 2015
i kept looking and could only see the young lady till i read someone said look at the young girls ear and i saw it :P its really cool actually.
Posted by

Sue

on April 3, 2016
I see the young lady and a bird, can anyone else see the bird and what is it's meaning?
Posted by

Alexia

on March 26, 2016
Took me like five minutes to see the old lady, the young lady was easy to spot though.
Posted by

AF

on April 6, 2016
I really like the old lady
Add a comment
Your name:
Your comment:
What is the third letter of the word "graphics" ?