Octavio Ocampo Family of Birds illusion
Category: Double Meanings | Added: March 2, 2013 |

5 comments
This beautiful and gentle picture called "Family of Birds" is the work of Octavio Ocampo who is a well known artist from Mexico. In this image you can see some birds hovering around the bark of a tree, while inside the tree are two chicks with their mouths open waiting to be fed. If you look again however the image also becomes the face of a young lady.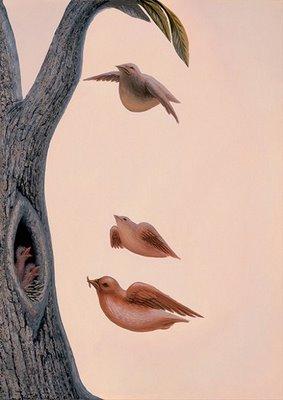 Image Credit: Octavio Ocampo
Comments ( 5 )
Posted by

abinaya

on June 4, 2013
According to peach color it mostly looks like a lady and I saw this picture in a Tamil magazine For June 2013(chutti vikadan)specially made for children
Posted by

gluckanslovicna

on September 2, 2013
wow
Posted by

Jonathan Dolan

on April 16, 2014
It doesn't work
Posted by

Michelle

on May 27, 2014
When I first saw it it looked like a ladys face. Lol I didn't even recognise the birds!
Posted by

jennifer

on April 6, 2015
that was so awesome
Add a comment
Your name:
Your comment:
What is the third letter of the word "graphics" ?