Pencils illusion
Category: Shape and Color | Added: February 28, 2013 |

22 comments
Here we have a simple optical illusion image of a row of blue artist pencils. As you can see these pencils have eraser ends and the points have been sharpened ready for use. If you count the sharpened points you will see there are seven, but if you count the eraser ends you will see there are only six. So how many pencils in total do you think there are in this picture? Would you say six or seven?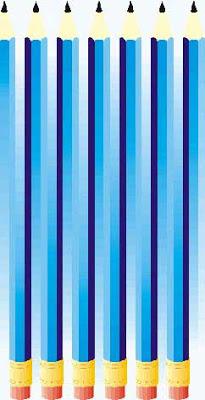 Image Credit: This image is believed to be in the public domain.
Comments ( 22 )
Posted by

Todd

on April 24, 2013
I Counted Seven.
Posted by

Michael Jordan

on May 8, 2013
This was one of the best ones and by the way this is not michael jordan I was just to scared to put my own name, president Barack Obama
Posted by

joseph

on June 1, 2013
there r 7 one picel has paschaly been drawn on the farthist left one so you can say 6 and 1/2
Posted by

abinaya

on June 5, 2013
if you see from he eraser you can focus the image and it didn't join with correct tips
Posted by

blue bunny

on August 22, 2013
there r seven
Posted by

vijay

on October 10, 2013
ther are 7
Posted by

tyler

on February 26, 2014
there are actually 12 pencils
Posted by

Jeff

on March 27, 2014
There are actually 13 pencils. if you look at the eraser and go up they blend into white. if you look at the led side they go down and blend into white. this means that there are 13 pencils.
Posted by

Skyler

on May 20, 2014
Look at the first pencil. It blends into the second, so it does not have an eraser.
Posted by

lala

on July 13, 2014
Zero Full Pencils
Posted by

della

on August 21, 2014
this is soooooooooooooooo cool!!!!!!!
Posted by

darkangel15

on September 13, 2014
its so cool ....... u cant actually think that there are 6 1/2 pens there
Posted by

arpit patel

on November 1, 2014
actually there are only 6 because the colour is same and some are thinking that it is not matching with each other.
Posted by

Some person

on November 19, 2014
there are 11
Posted by

little fish

on January 25, 2015
Its good but not the best
Posted by

jasmine hanna

on March 20, 2015
0 pencils none of the earasers are attached to the sharpened tip
Posted by

jennifer

on April 6, 2015
I talked to the guy that made this. there are actually only four. but can you find them
Posted by

Sonny Catur

on August 2, 2015
7 pecils has saved and new 6 pencils - Total 13 pencil
Posted by

idon'ttrustyou just sayin

on November 24, 2015
on the first pencil if you look closely, it is connected to the second pencil with sharing an eraser.
Posted by

MFS Crafty

on December 16, 2015
the answer is DIFFICULT Because you cant relly know if its 6 or 7 because the eraser doesnt go with the tip and the pencil doesnt go with the eraser
Posted by

jeffry

on June 27, 2016
I think there are 6 cuz the first pencil tip has no end
Posted by

qruzi

on December 1, 2016
There are 7 pencils as if you look closely you can see that the rubber is not linked with the actual pencil as it is in the middle so thats why i think there is 7 pencils