Truck with Bottle
Category: Photo Manipulations | Added: May 26, 2009 |

8 comments
This picture created by Pat McNulty shows a truck that has been altered to show a giant bottle that appears to be contained within the back of the vehicle.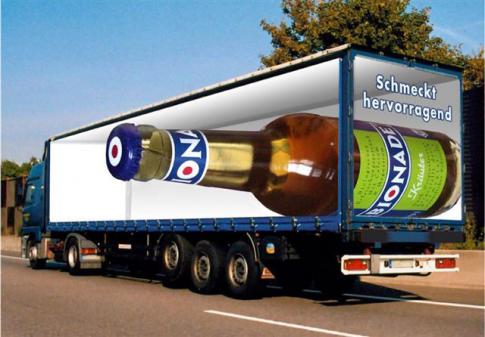 Image Credit: Pat McNulty
Comments ( 8 )
Posted by

bailey

on September 13, 2009
that is coool
Posted by

tawcrenee

on January 21, 2010
kol kol i cinda get it
Posted by

tattyteddy

on April 23, 2011
AMAZING!!!! A great work of art!!!! I love this one to bits!!!
Posted by

Princess

on June 2, 2011
Wow what a great piece of art this is!
Posted by

podolski

on February 9, 2012
lame!!!!
Posted by

cato

on May 30, 2012
That is a cool picture but it is obviouse it is not real
Posted by

kobby guy guy michael

on May 12, 2016
sooooooo...good ba not real.whoever is realistic. abayifuo asa
Posted by

adjei-bioh margaret

on May 12, 2016
awk....wow...mysterious picture