Truck with Bottle
Category: Photo Manipulations | Added: May 26, 2009 |

6 comments
This picture created by Pat McNulty shows a truck that has been altered to show a giant bottle that appears to be contained within the back of the vehicle.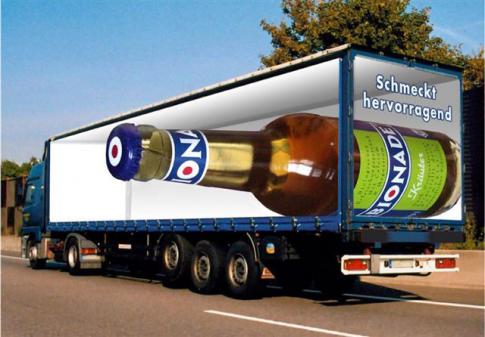 Image Credit: Pat McNulty
Comments ( 6 )
Posted by

bailey

on September 13, 2009
that is coool
Posted by

tawcrenee

on January 21, 2010
kol kol i cinda get it
Posted by

tattyteddy

on April 23, 2011
AMAZING!!!! A great work of art!!!! I love this one to bits!!!
Posted by

Princess

on June 2, 2011
Wow what a great piece of art this is!
Posted by

podolski

on February 9, 2012
lame!!!!
Posted by

cato

on May 30, 2012
That is a cool picture but it is obviouse it is not real
Add a comment
Your name:
Your comment:
What is the third letter of the word "graphics" ?