Pepsi Cases Truck
Category: Photo Manipulations | Added: May 26, 2009 |

5 comments
This photographic manipulation from Pat McNulty shows a truck with a transparent rear section filled with Pepsi cases that are stacked downwards from the ceiling as oppose to upwards from the floor.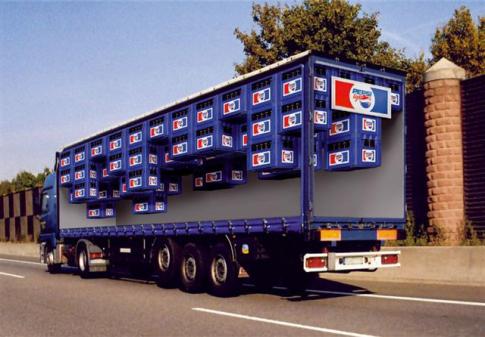 Image Credit: Pat McNulty
Comments ( 5 )
Posted by

kati

on March 27, 2010
wow , thats soo cool
Posted by

#1

on April 25, 2010
It is very hard to see. You must be very focused to see the illusion in the piece of artwork. But my goodness, are these 6 paintings amazing! This artist deserves a quadruple thubs up!!
Posted by

bennyboo2005

on April 22, 2011
i cant take any more truck illusions! im out!
Posted by

I DO NOT KNOW MY NAME

on November 27, 2011
THAT IS SO COOL
Posted by

brandon

on April 4, 2012
great pic