Zoo animals face
Category: Illusion Art | Added: March 10, 2013 |

10 comments
In this optical illusion you can see how the picture has been made up to resemble the face of a man by cleverly using images of a number of different zoo animals. I believe there are twenty eight to thirty animals in this image, including a bear, kangaroo, horse, rabbit, tiger, elephant, monkey and a snake. Some are pretty obvious to spot while others are more hidden and you will need to look more closely to find them. So have a good look at this picture, how many animals do you think there are?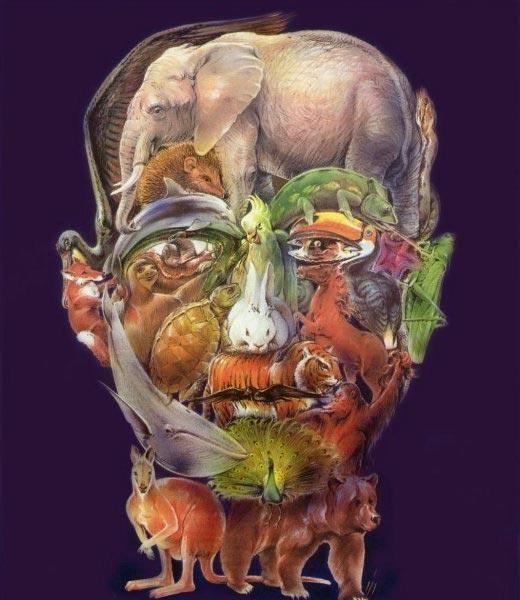 Image Credit: This image is believed to be in the public domain.
Comments ( 10 )
Posted by

asphalt 8

on May 24, 2014
I like it
Posted by

michelle

on June 15, 2015
Bird, elephant, snake, dolphine, porcupine, alligator, lizard, snail, parrot, fish, starfish, grasshopper, fox, turtle, rabbit, pelican, a kind of monkey(donno name), tiger, horse, whale, another bird, ape, peacock, kangaroo, bear. Total 25
Posted by

apple

on July 29, 2015
I see 29 animals!
Posted by

fletch

on September 26, 2015
brilliant
Posted by

michael

on May 12, 2016
this is not in real world.Mysteriously
Posted by

laura lopez

on May 28, 2016
I love optical illusions, hidden pictures/objects, and riddles. They make you think! Mind bogglers!
Posted by

Name

on June 8, 2016
c:
Posted by

Sakshi

on December 29, 2016
mind blowing
Posted by

bob c

on February 7, 2017
you like to purchase a print of the "Zoo Animal Head" where would it be possible obtain?
Posted by

Vanessa

on January 7, 2018
animal on nose Cockatoo Yellow crest