Bulging Squares
Category: Shape and Color | Added: June 5, 2009 |

10 comments
This black and white grid appears to bulge outwards in a circular form despite the fact that it is made up entirely of squares. The black square in the center represents the point that appears to be closest to your eyes.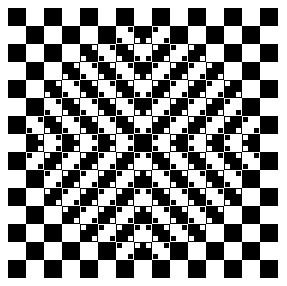 Image Credit: This image is believed to be in the public domain.
Comments ( 10 )
Posted by

your not getting my name

on April 8, 2010
Trippy
Posted by

cant get one

on April 14, 2010
yo dats sick i like it
Posted by

Hot Pepper of Mexico

on November 15, 2010
too many squares..lol
Posted by

Sophia

on October 10, 2011
Weird.
Posted by

welcome dummy

on January 19, 2012
holy mother
Posted by

the postman

on January 25, 2012
it duznt move
Posted by

paul11223344

on March 18, 2012
the lines are not straight... very slightly bent and your eyes exagerate it, try making the same "illusion" with dead straight lines and TRUE squares and it wouldnt work.... its a cheat
Posted by

dudett

on April 21, 2012
hi
Posted by

dudett

on December 16, 2013
hi
Posted by

Queen

on January 18, 2015
So creative... thumbs up to you guys!
Add a comment
Your name:
Your comment:
What is the third letter of the word "graphics" ?